Get ready to smoke the competition this Memorial Day with these 10 mouthwatering smoker recipes. From savory brisket to fall-off-the-bone ribs, these recipes are sure to impress all of your guests. So fire up the smoker, grab a cold one, and let's get smokin'!
The 3 Smoker Staples for Memorial Day
Smoked Brisket
I absolutely love making smoked brisket for Memorial Day. It's such a crowd-pleaser, and the tender, juicy meat is hard to resist. To make the perfect brisket, I follow a classic smoked brisket recipe.
It's essential to start with a quality cut of meat, and I always opt for a full packer brisket with the point and flat intact.
For my brisket rub, I like to keep it simple with coarse salt, black pepper, and a touch of paprika for color. I smoke the brisket low and slow, around 225°F, aiming for an internal temperature of 203°F for that perfect melt-in-your-mouth consistency.
Wrapping the brisket in foil or butcher paper about halfway through the cook helps to preserve the outer bark and retain moisture.
Double Smoked Ham
Double smoked ham is another favorite recipe of mine for Memorial Day. It starts with a pre-cooked, bone-in, spiral-cut ham from the store. I let it rest at room temperature for an hour or so, then apply a sweet glaze made of brown sugar, maple syrup, and Dijon mustard.
To really infuse the ham with smokey flavor, I use a pellet grill set to 225°F and smoke the ham for about three hours. The key is to baste the ham with the glaze every 30 minutes, creating a delicious caramelized crust.
BBQ Ribs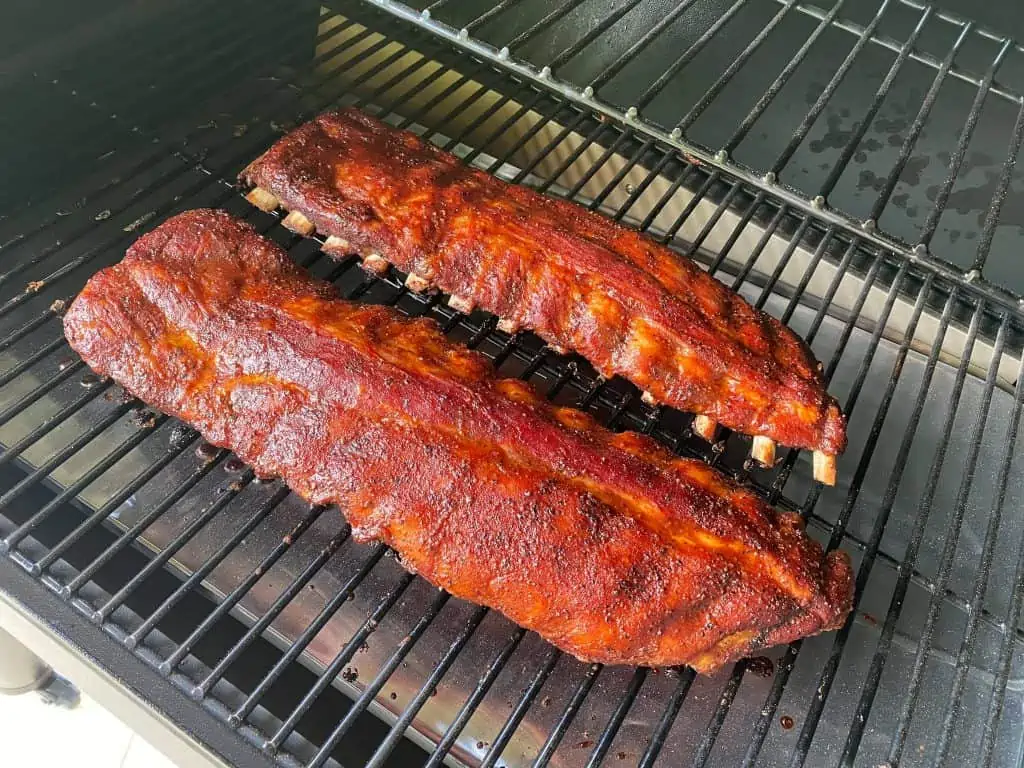 Finally, no Memorial Day celebration would be complete without some good ol' BBQ ribs. My go-to method? 3-2-1 ribs. The process involves:
3 hours of smoking: Apply your favorite dry rub to a rack of baby back ribs and smoke them for three hours at 225°F.
2 hours wrapped: After three hours, remove the ribs from the smoker, wrap them in foil with some apple juice or your preferred braising liquid, and return them to the smoker for another two hours.
1 hour sauced: Unwrap the ribs, brush them with your favorite BBQ sauce, and smoke for a final hour to set the sauce and develop a beautiful, sticky finish.
More Memorial Day Smoker Recipes
Pulled Pork Sandwiches
I always find that pulled pork sandwiches are a must-have for Memorial Day smoker recipes. The slow-smoked pork shoulder becomes so tender and juicy that it just falls apart with a fork.
I like to mix the pulled pork with a tangy BBQ sauce and serve it on a warm, soft bun alongside some crunchy coleslaw.
Grilled Corn on the Cob
Grilled corn on the cob is another Memorial Day favorite of mine. There's something about the smoky flavor and charred kernels that really brings out the sweetness of the corn.
I prefer to grill the corn still in its husk to keep the moisture in, and then finish it off with a sprinkle of salt and a generous slathering of butter. It's the perfect side dish to accompany those pulled pork sandwiches.
Smoked Chicken Wings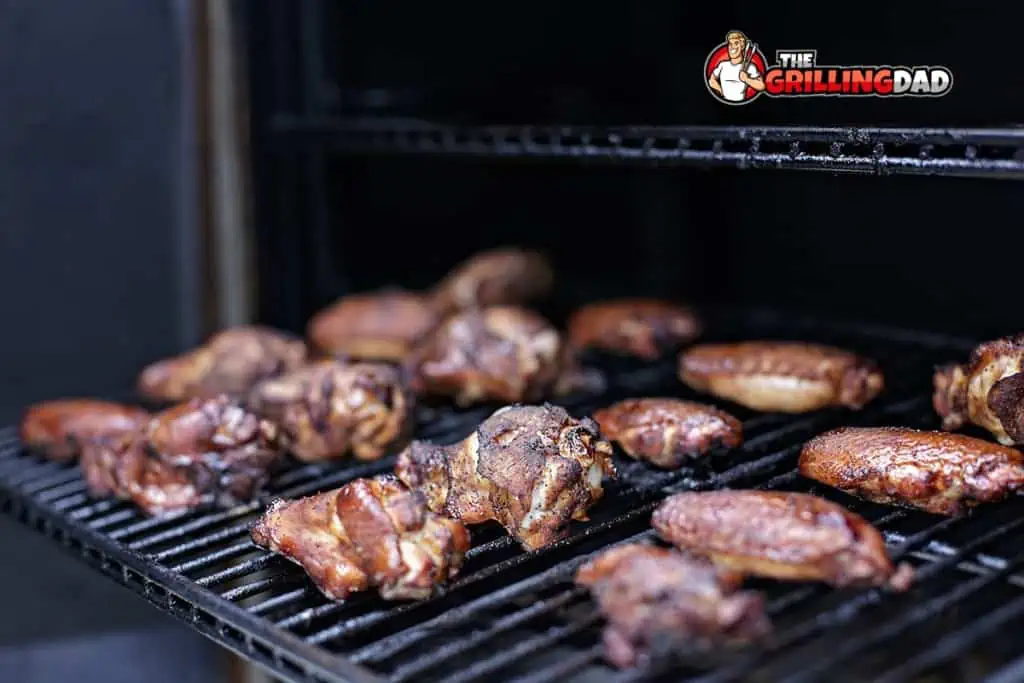 Finally, I can't talk about Memorial Day smoker recipes without mentioning smoked chicken wings.
These wings get an amazing flavor from the combination of a spicy dry rub and that distinct smoky aroma from the smoker. I like to serve them with a cool and tangy blue cheese dipping sauce to balance out the heat.
Smoked BBQ Pizza
When I'm looking for a unique twist on a classic dish, I always go for smoked BBQ pizza. The smoky flavors really elevate the taste of the pizza and create an unforgettable eating experience for Memorial Day.
To make this dish, you'll need pizza dough, your favorite BBQ sauce, smoked meat like pulled pork or chicken, cheese, and some toppings like red onions and jalapenos.
First, roll out the pizza dough and slather it with BBQ sauce. Next, add your smoked meat, cheese, and toppings. Use a pizza stone or a smoker-safe pan, and smoke the pizza for about 20-25 minutes at 375°F.
Trust me, the flavors of this smoked BBQ pizza will impress everyone! And if you prefer a full step-by-step guide, check out our post on how to smoke pizza on a pellet smoker.
Smoked Mac and Cheese
I have to mention the ultimate comfort food: smoked mac and cheese. Taking this classic dish and adding the smoky flavors from the smoker truly takes it to a whole new level. T
o make smoked mac and cheese, you'll need elbow macaroni, shredded cheese (I like using a mix of cheddar and mozzarella), butter, flour, milk, and your favorite seasonings like salt, pepper, and paprika.
First, cook the macaroni according to the package instructions. In a separate saucepan, make a roux by melting butter, then whisking in flour. Gradually whisk in the milk and continue stirring until the sauce thickens. Add in your seasoning and cheese, stirring until fully melted. Combine the pasta and cheese sauce in a smoker-safe dish, and smoke at 225°F for about 1 hour.
The result is a gooey, smoky, and indulgent smoked mac and cheese that will make Memorial Day extra special!
A Seafood Twist
Smoked Shrimp Skewers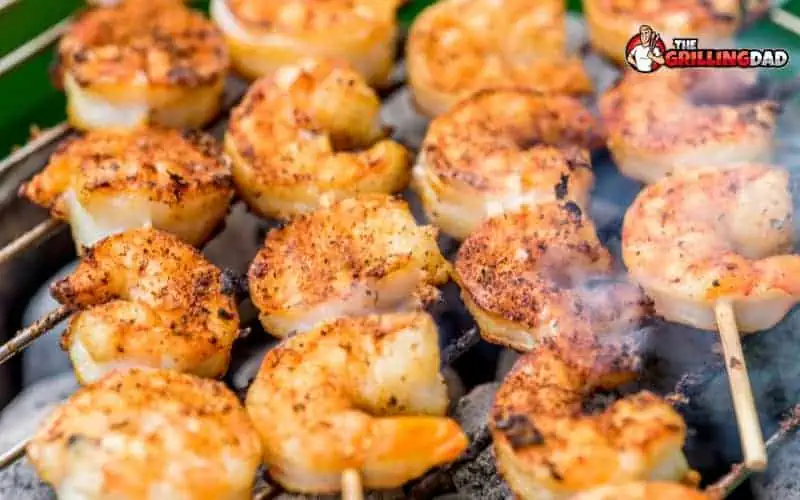 I love adding a seafood twist to any barbecue, and smoked shrimp skewers are a perfect option for Memorial Day. They're not only delicious but also easy to prepare!
First, I marinate the shrimp in a mixture of olive oil, lemon juice, garlic, and some herbs.
Then, I thread them onto skewers and smoke them for about 15-20 minutes, or until they're pink and cooked through.
Sometimes, I like to use a specific type of wood for the smoke, like cherry or applewood, to add a unique flavor profile to the shrimp.
Related >> How Long Does Shrimp Last in the Fridge?
Smoked Crab Legs
Another great option for seafood lovers is smoked crab legs.
King crab legs, when smoked correctly, have that rich and sweet flavor, similar to lobster. I usually baste them in a butter and spice mix before smoking them over light oak for about 30 minutes.
Trust me, the delicious combination of smoky, buttery, sweet crab legs will leave everyone wanting more.
Smoked Fish Tacos
Smoked fish tacos. For this, I like to use a firm white fish, like mahi-mahi or cod, which I marinate in a combination of lime juice, garlic, chili powder, and salt.
After the fish has absorbed those flavors, I place it in the smoker for around 20 minutes, depending on the thickness.
Once it's done, I break the fish into bite-sized pieces and serve them in warmed tortillas, topped with a zesty slaw and a squeeze of lime.
Here's the gist of my go-to slaw recipe:
2 cups of shredded cabbage (I prefer using purple for color)
1/4 cup chopped cilantro
1/4 cup thinly sliced red onion
1/4 cup shredded carrots
2 tbsp of apple cider vinegar
The combination of smoky fish, tangy slaw, and warm tortillas not only makes for a delicious and satisfying meal but also adds a unique kick to our Memorial Day celebration!
Upgrade Your Side Dishes
Smoked Potato Salad
Another great side to enhance with your smoker is potato salad. My show-stopping twist on this classic dish starts with boiling my potatoes until just fork-tender.
I then cut the potatoes into chunks, toss them in a little oil with some seasoning, and place them on a smoker-safe tray. Smoke the potatoes at 225°F for about an hour to infuse a delicious smoky flavor.
Once smoked, combine the potatoes with your favorite potato salad recipe ingredients!
Sweet Potato Casserole
When it comes to special sides, I adore Sweet Potato Casserole. To make this Memorial Day treat, I start by boiling my sweet potatoes until tender. Then, I mash them with butter, brown sugar, cinnamon, and a splash of vanilla.
I spread the mixture into a baking dish and top it with a heavenly streusel made from butter, brown sugar, flour, and chopped pecans.
The finishing touch is smoking the casserole at 300°F for about an hour, adding an incredible smokiness to every bite.
Creamy Coleslaw
Coleslaw is another great side that can benefit from a hint of smoky flavor. To make my Creamy Coleslaw, I start with shredded cabbage, carrots, and onions.
In a separate bowl, I mix mayonnaise, apple cider vinegar, sugar, and a touch of mustard to create a homemade slaw dressing.
I toss the veggies and dressing together, store it in the refrigerator for a couple of hours, and serve it alongside my other smoker-infused dishes for the ultimate Memorial Day feast.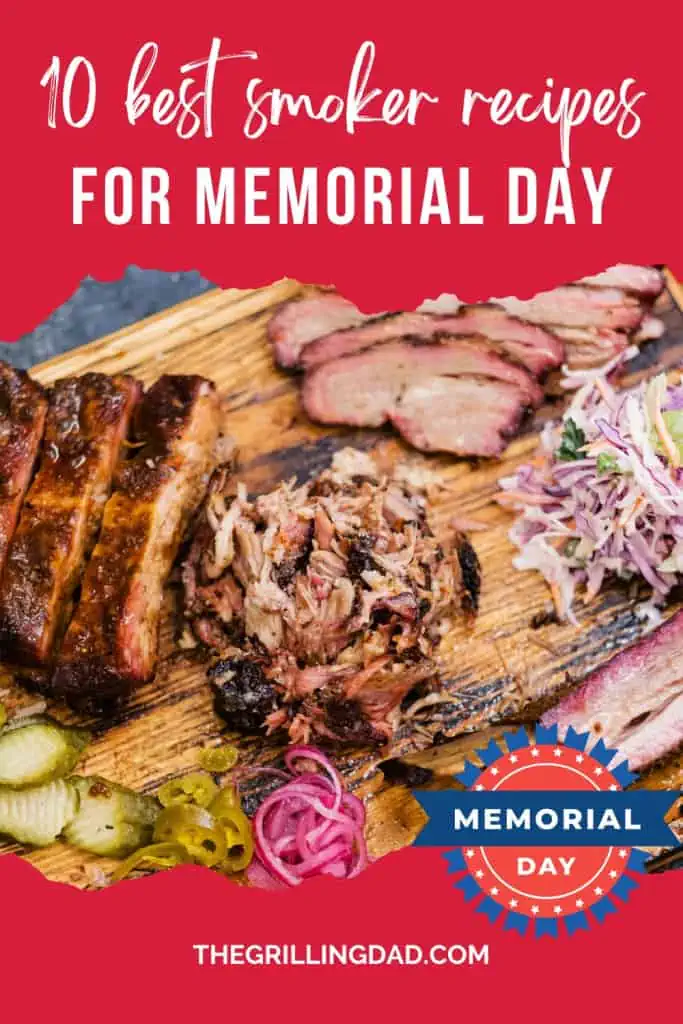 Cooking Tips and Techniques
Hot Smoking vs Cold Smoking
When it comes to smoking recipes, I've found that there are two main methods: hot smoking and cold smoking.
Hot smoking involves cooking the food at temperatures between 225°F and 300°F, making it perfect for smoking chicken thighs, t-bone steaks, or smoked shotgun shells.
Cold smoking, on the other hand, uses lower temperatures—typically below 85°F—to slowly infuse the food with smoky flavor without actually cooking it. This method is great for items like bacon and smoking cheese.
Herbs and Seasonings for Smoker Recipes
When I prepare smoker recipes, I love experimenting with various herbs and seasonings to enhance the flavor of my meats. A few of my go-to herbs include parsley, thyme, and rosemary, as they complement the smoky taste wonderfully.
Additionally, when it comes to seasoning my meats, I prefer using kosher salt, black pepper, and paprika. These simple ingredients can truly elevate the flavor profile of the dish.
Don't be afraid to get creative with seasonings like chili powder, cumin, or even a homemade dry rub.
Choosing the Right Wood for Smoking
Selecting the appropriate wood for smoking is crucial to the success of my Memorial Day smoker recipes.
Different woods impart distinct flavors, so it's important to choose the right one for your specific dish. Here's a quick rundown of my favorite wood choices for various meats:
Fruitwoods like apple or cherry: These are great for chicken wings, poultry, and pork tenderloins.
Hickory and mesquite: These woods are bolder, making them a solid choice for beef short ribs, lamb chops, or smoked chuck roast.
Oak: This is a versatile, mild wood that works well for pork, beef, and even some fish. It's one of my favorite choices for smoked prime rib or smoked tri-tip.
By considering the type of meat, the smoking method, the herbs and seasonings, and the wood choice, I've been able to create some unforgettable Memorial Day smoker recipes.
While these tips have been a great starting point for me, don't be afraid to experiment and discover your own preferences. Keep rollin' smoke!