Are you looking for a grill brush that won't damage your cast iron grates but can still get them clean?
You're in the right place!
In this TheGrillingDad.com guide, you'll learn:
What do look for
Our reviews of the top 5 best grill brushes for cast iron grates
And much more!
Cast iron grill grills can be one of the most reliable parts of any grill. You can achieve those professional-looking sear marks on your food and rarely worry about wear and tear.
However, one of the challenges of these grill grates is getting them clean without ruining them.
You'll want to have a grill brush that can properly clean them for safety and maintenance.
Top Grill Brushes for Cast Iron Grates
In a hurry? Check out our top 5 grill brushes for cast iron grates! Keep reading to discover more about our top picks.
What Makes a Grill Brush for Cast Iron Grates Different?
Cast iron can cook better than most other grills because it can hold heat better. They distribute the heat evenly throughout.
It's best to clean your grates when the heat is high, so you'll need a tool that can handle high heat.
Many cast iron grates are porcelain enameled, so you'll also want to avoid anything with sharp points that can chip the grates.
You'll also want a brush that has a lot of reach so that it can clean all the sides of the cast-iron grates. You want one that will reach in between and underneath, ensuring a complete scrub.
Read More >> How To Remove Rust From Cast Iron Grill Grates
What Do You Look for When Buying A Grill Brush for Cast Iron Grates?
We want something that has a good balance between price and function.
Most grill brushes fail after a few uses, so we want one that's reliable and durable for long periods. Many grill brushes achieve this through different features.
We also want something that protects us from the heat of the cast iron grill. It's important to have enough reach with the brush. The brush should be able to clean the grill with minimal effort.
And lastly, you want to avoid those little metal bristles at all costs because they're very dangerous. 
Related >> How Long Should a Grill Brush Last?
Our Reviews Of The Top 5 Best Grill Brushes For Cast Iron Grates
Pick #1: Grill Rescue Grill Brush
The Grill Rescue Grill brush is ideal for your weekend barbecues.
It's sturdy and can remove those difficult stains and gunk with ease.
As long as you follow the proper instructions, you can begin sterilizing and cleaning in no time.
You'll have to heat the grill first. Then you'll soak the brush in water. Turn off the grill and begin using the brush.
The contact between the two will create steam that works well in cleaning your grates.
This process makes cleaning look effortless, and the cleaning head is very sturdy.
This is the grill brush for you if you've always had a hard time getting your grill as clean as you'd like. It's the real deal and worth the hefty price tag.
This was rated as our best overall grill brush for all grill types!
Pros
Resists extremely high temps
Uses steam to clean the grill
Gets the dirtiest of grills clean
Proceeds from each purchase supports firefighters
Cons
The pad handle attachment is one of the weakest parts of the brush, so be careful when swapping out brush heads.
Pick #2: Lodge Cast Iron Scrub Brush
Although typically used to clean cast iron skillets, the Lodge Care Scrub Brush is a budget tool that can help you clean your cast-iron grates easily.
With the simple use of hot water and Lodge Care, you can begin cleaning.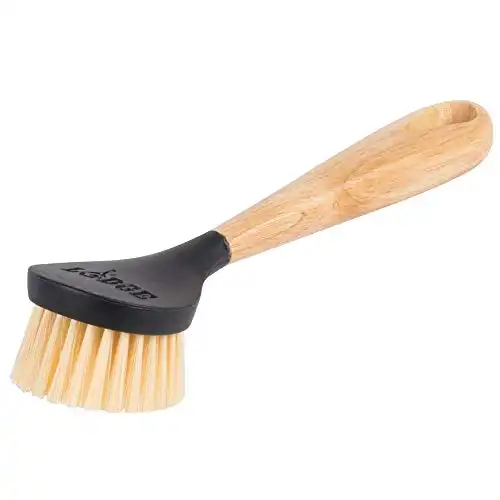 Its design is to ensure that you clean your cast iron grill without damaging the material's surface. The brush is heavy-duty and has a 10-inch reach to provide added safety.
The Lodge manufacturing company has a lot of experience with cookware, having been in operation for 100 years. They were just recently available to be purchased on Amazon.
Pros
Ergonomic design
Rubber and wood handle for safety
10-in reach
Can be used to clean your cast iron skillets as well
Cons
Nylon bristles are safer than metal ones, but your grill needs to be under 250 degrees Fahrenheit so they don't melt
Pick #3: Fuller BBQ Grill Brush
Another company that has been in the cookware business for over 100 years, Fuller's Grill Brush is one of the more high-end pieces in the market.
It works for cast iron and other types of grates while also being viable for pans.
The nylon bristles won't damage the cast iron surface and are much less dangerous than metal alternatives.
Fuller's brush can withstand 250 degrees Fahrenheit in heat. It also comes with extra bristles at different lengths to help clean grills better.
It works on ceramic, Teflon, and other materials, leaving no scratch behind. It's also easy to clean.
Pros
Different bristle lengths for in between grates
Easy to clean
Secure and comfortable grip
Cons
If you don't wait until the grill cools down (below 250), the bristles will melt
Pick #4: Char-Broil Nylon Bristle Grill Brush
With proper use, the Char-Broil grill brush can be one of the most reliable grill cleaning tools you have.
Burn off most of the other debris at high temperatures, then let the grill cool down.
After that, you can use the nylon brush to remove the rest of the residue.
Its length provides enough reach, and it has a curve to make cleaning comfortable.
Another benefit of using Char-broil is its replaceable head. You can buy a replacement if the bristles get damaged. It helps you save money.
The product has a good grip and is very durable.
Pros
You can replace just the head in the future
Excellent grip
Thick nylon bristles
Cons
It has a scraper, but the angle makes it awkward to ever use
Pick #5: SCRUBIT Grill Scrubbers
SCRUBIT's grill cleaning brush isn't like your usual brush. It's more of a sponge, and it has a smaller rounded grip.
It allows you to have more control when you're brushing the grill.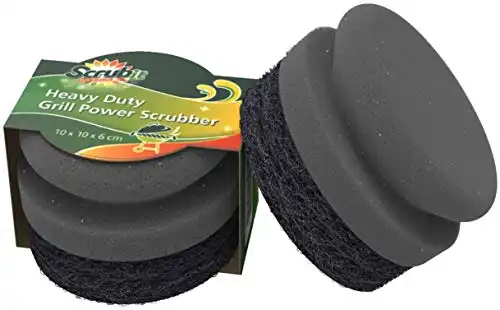 It's a great alternative if you want to avoid dangerous metal bristles.
SCRUBIT's brush may be a sponge, but it's an industrial-level one. The material is polyurethane foam with synthetic fiber.
It's a tough scrubber. Still, you'll have to dip the brush into water to clean it up as you're scraping away.
These would be rated higher, but you have to wait until the grill is completely cool to use them since there's no handle to keep your hand away from heat.
Pros
Very easy to control when cleaning
Comes in a two-pack
No dangerous metal bristles
Cons
No handle means you have to wait until the grill is cool to use them
Final Thoughts Cleaning Cast Iron Grates
You'll notice that we don't recommend using metal bristles for grill cleaning.
While they can be effective, metal bristles are very dangerous. They can attach to your food unknowingly and lead you to a trip to the hospital.
By choosing a sponge or nylon brush, you're saving yourself a lot of trouble down the line. As long as you're using these brushes as intended, you won't have a problem.
And after you get a new grill brush, here's a guide on cleaning your grill brush.
If you want to learn more about grilling, check out these other helpful resources!