Are you looking for the best charcoal grill for under $500? You've come to the right place because here you can find answers to all your questions.
In this GrillingDad guide, you'll discover:
Our top picks, which are based on testing and real reviews
What to watch out for
And much more!
Our Top Picks
Best Charcoal Grills Under $500 Reviewed
When it comes to choosing the best charcoal grill of any budget, many factors should be considered including the reason you are wanting a grill in the first place.
Will you be grilling for a lot of people at one time?
How often will you be using your charcoal grill?
Whatever your reasoning for wanting a charcoal grill, you will find some great choices in this article.
$500 is a great budget for a charcoal grill and can give you quality options! Keep reading for the best charcoal grills within your specified budget:
(Best Upgrade)
For those looking for a grill that will do it all, look no further than this Masterbuilt charcoal grill with its combination of features. With this model, you can not only grill your favorite foods, but it is also equipped to smoke, bake, sear, and roast.
Still, within budget, this grill features a digital design and a hopper on the side that is typically found in pellet grills. This allows you to use either charcoal briquettes or lump coal that feeds through the hopper.
Equipped with cast iron grates that are reversible for various purposes, you have more than 550 square inches of cooking space on this grill.
Since the grill is a combination of charcoal smoker and grill, it can heat up quickly to temperatures between 150℉ to 700℉ for a better cooking range.
This is also made the list as our #1 pick as the best smoker for beginners and the #1 pick as the best gravity smoker. It can do it all!
Pros
Large cooking area
Reversible cast iron grates
Wide temperature range
Can be used for various purposes
Cons
Shorter warranty than most grills
Limited portability with heavier weight
(Best Overall)
While this grill may not be as fancy as some of the higher-end Weber models, it is one of the best for less than $500. Coated with a porcelain finish to maintain temperature and heat distribution, this charcoal grill is also protected from the elements to prevent rust and other weather damage.
The Weber Performer grill has more than 360 square inches of cooking space which is perfect for cooking for the average-sized family. It is equipped with a damper on the lid which can help in keeping the heat in as well as allowing more air to flow through the grill.
Although this model is heavier than other grills at this level, it does come equipped with four wheels that make it easier to transport. With shelving and hooks to store your equipment, this grill has just about everything you may want in a charcoal grill.
Pros
Shelving and hooks for better storage
The damper is adjustable
Easy to transport with wheels
Ash catcher is removable making it very easy to clean
Cons
Heavier than other grills of this size, but what would you expect from heavy-duty Weber ceramic?
It may not come with a warming rack
(Best for Budget)
If you are looking for a grill that is perfect for smaller spaces or if you plan to grill for fewer people, this Char-Griller Charcoal grill may be a great option.
With about 250 square inches of cooking space, it is just right for less than 4 people.
Although the cooking grates may be more difficult to clean, the cast iron design makes them more durable and better able to handle the heat than other grills. Not only are they designed with cast iron for durability, but they are also thicker than most grates which allows them to heat up quickly and for longer periods.
Other features such as the barrel design and the bigger side air vent allow the heat to circulate better and gives you better temperature control. This grill also features a storage drawer that is large enough to store your cooking utensils easily.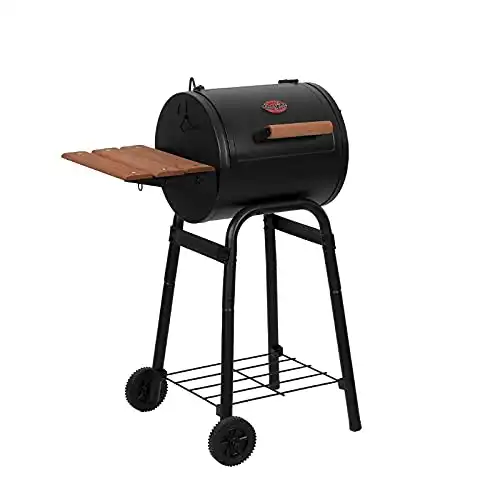 Pros
Plastic wheels for easy portability
Cast iron grates for more durability
Large side vent for better air circulation and the ability to control the temperature
Storage drawer and rack for tools
Cons
Smaller than other grills, but if you're limited on space, that may not be a downside
More difficult to clean
(Best Value)
The Royal Gourmet charcoal grill features more than 800 square inches of cooking space that is divided into different areas of the grill.
The main cooking area has about 438 square inches with a warming rack and offsets smoking system that adds up to quite a bit of space which is great for grilling for larger crowds.
If you like the smoky flavor on your meats, but don't want the full smoker experience, this grill may be perfect for you. This is because it also features a small smoker box that easily adds in a bit of the smoky flavor some people love.
Some other great feature of this charcoal grill is that the heat is adjustable with the fire pan that can easily be lifted or lowered. A side door allows for better ventilation while the porcelain-coated cooking grates help to retain heat.
Pros
Comes equipped with a small smoker box
Ample cooking space
Easy portability
Has multiple surfaces
Cons
The charcoal pan may be harder to adjust than stated
It may be heavier than other similar charcoal grills
(Best for Large Families)
Looking for a charcoal grill with ample cooking space? Look no further than this Masterbuilt charcoal grill that is equipped with more than 500 square inches of cooking area.
This grill also features two vents that are adjustable to allow more air ventilation to flow through during the cooking process. Additionally, it comes with a temperature gauge that is built in to provide better heat regulation.
If more storage space is on your list of must-haves for a charcoal grill under $500, this Masterbuilt grill has it ten-fold. With two side shelves that can be adjusted to store your utensils or other items and extra storage space at the bottom, you will have plenty of room to store your grilling accessories.
Pros
Great storage
Ample cooking area
Two vents for additional air circulation
Temperature gauge for better control
Cons
Takes a while to assemble
The exterior may peel after repeated use
What is a Charcoal Grill Exactly?
If you have any experience with grilling, then you probably know that the charcoal grill is the most commonly used for outdoor cooking. This is because many grillers believe it to be a more authentic grilling experience.
A charcoal grill uses either lump coal or charcoal briquettes as the fuel source for this type of grilling. By using the various types of charcoal, you can get a more authentic smoky flavor into your meats and other foods.
Related >> Best Charcoal Grills
The Basics of How a Charcoal Grill Works
Depending on what type of charcoal grill you are looking for, you may have to use it in a variety of different ways. This is because charcoal grills can come in different sizes, shapes, and styles including kettle grills and pellet grills.
Whatever the type of grill you have or are looking to purchase, you will need to ensure that you are familiar with how it works. This can be done by consulting with the owner's manual that comes with the grill or checking out some videos online.
In most cases, the charcoal sits underneath the cooking grate and is started by adding lighter fluid and wood chips if you prefer. The wood chips help stoke the fire and give your food a smoky flavor.
A post shared by Shawn Hill | The Grilling Dad (@thegrillingdad)
What to Look for When Buying a Charcoal Grill Under $500
As when you are looking to make any large purchase whether, for your home or your backyard, there are certain criteria you should look for. These features will give you the best overall quality that you need when operating a charcoal grill.
Read on to learn more about what you should look for when buying a charcoal grill.
Portability
While it may not be the most important feature to look for, being able to move your grill around as needed is something that you should consider. Once you get your grill assembled, you may want to move it around the patio or even take it camping with you.
Cooking Space
Whether you are cooking for yourself, your family, or a larger group of people, the size of the cooking space in your grill is important. This can make the difference between being able to cook your food in shifts or all at once.
Location of Charcoal Pan
Depending on your personal preferences, you may want to consider the location of where you will add more charcoal to your grill. Some grills have drawers down below for easy access and for others you have to remove the cooking grate to add more.
Ease of Cleaning
The last thing that you probably want to do after you use a grill is spend a lot of time cleaning up your area. This is why you may want to consider the kind of grates you choose as well as where the ash is after cooking.
Pros and Cons of Buying a Charcoal Grill
There are many advantages and disadvantages of buying a charcoal grill under $500 that you may want to also consider. This can help you choose whether you want to make the investment or go in a different direction.
Here are some of the pros:
Pros:
Better for your pocketbook
Gives you a more authentic smoky flavor
Ability to add more accessories
Lots of variety on the market
Cons:
Typically lacks in bells and whistles, except our #1 pick which has it all
Many have smaller cooking areas, but if you don't have a huge space, this may not matter
May be lacking in quality
Is Buying a Charcoal Grill Under $500 Worth it?
Overall, buying a charcoal grill for under $500 is worth it if you choose the right one that fits your current lifestyle. While a grill at a lower price point may not come with all the bells and whistles, it can still get the job done.
It can be especially worth the investment to stay under $500 if you have never grilled before and want to try your hand at it. This is because if you decide you do not like to grill, then you won't have spent too much money on the unit.
What Type of Charcoal Should You Use on a Charcoal Grill?
Depending on the type of charcoal grill you purchase, it may require you to use various types of charcoal to function. You must understand what your grill uses before you make the purchase and take it home.
Here are two of the most common types of charcoal that are used in charcoal grills:
Lump Charcoal
This type of charcoal is exactly what it sounds like, lumps of charcoal that can vary in shape and size. While this type of charcoal is said to be better than most, it is not the most common since it is more difficult to package and purchase.
Related >> The Best Lump Charcoal for Smoking
Charcoal Briquettes
Viewed as the most affordable and the most commonly used charcoal, this can be purchased easily at most stores. This type of charcoal is preferred since it is typically slow burning which means that it will stay warmer for longer.
Final Thoughts on Buying Charcoal Grills
The bottom line when it comes to purchasing the best charcoal grill for under $500 is that there are many on the market for you to choose from.
Whether you are grilling for a large or small crowd, you should be able to find the grill that is perfect for you and fit your budget.