When I think of the Ninja Kitchen brand I think of solid, high-quality appliances, and the Ninja Woodfire Outdoor Grill did not disappoint (even though I had my doubts!).
Although Ninja Kitchen sent us the Wood Fired Outdoor Grill to review, all opinions here are my honest opinions.
I'll be honest, I was a bit skeptical that this multi-functional appliance could do so many things well. My first instinct was to throw something simple and easy on the grill but I wanted to see if it could stand up to our 'big smoker' – so I went with a brisket.
Smoking a brisket can be intimidating, it is notoriously tough (both in difficulty to cook well and literally, it's a tough cut of meat) and challenging to cook right. I wanted to put the Ninja Woodfire to the test against a more challenging meal. 
Spoiler alert: I was honestly so impressed with how well the brisket turned out. The meat was tender and moist and the bark (the outer crust) was genuinely smokey and flavorful.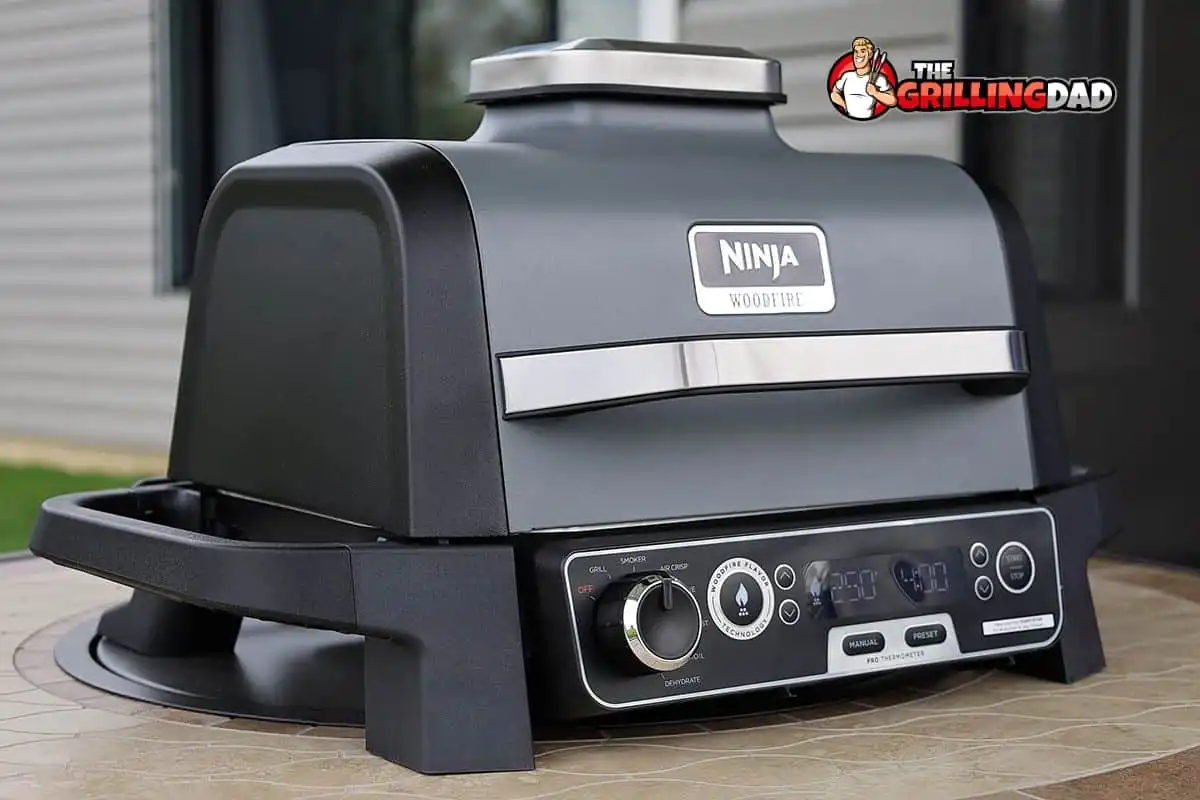 Ninja Woodfire Grill: First Impressions
The grill was larger than I was expecting – a pleasant surprise. I'm certain I could easily fit a whole chicken in here. The grill feels like it is made from quality materials and is well-designed with gray and black styling and an elevated design.
I did originally think the smoke would come out the top vented area but that is actually an air intake. The smoke wafts out of a vent on the upper back of the grill, which I much preferred as I could position it so the wind took the smoke away from where we were sitting nearby.
I was also surprised by how small the smoke box on the side is, holding only about a half cup of pellets. I had my doubts about its effectiveness to create a true smoke flavor but was ultimately impressed with both the efficiency of the smoke pellets and the flavor they offered.
Related >> Our Unbiased Pellet Smokers Reviews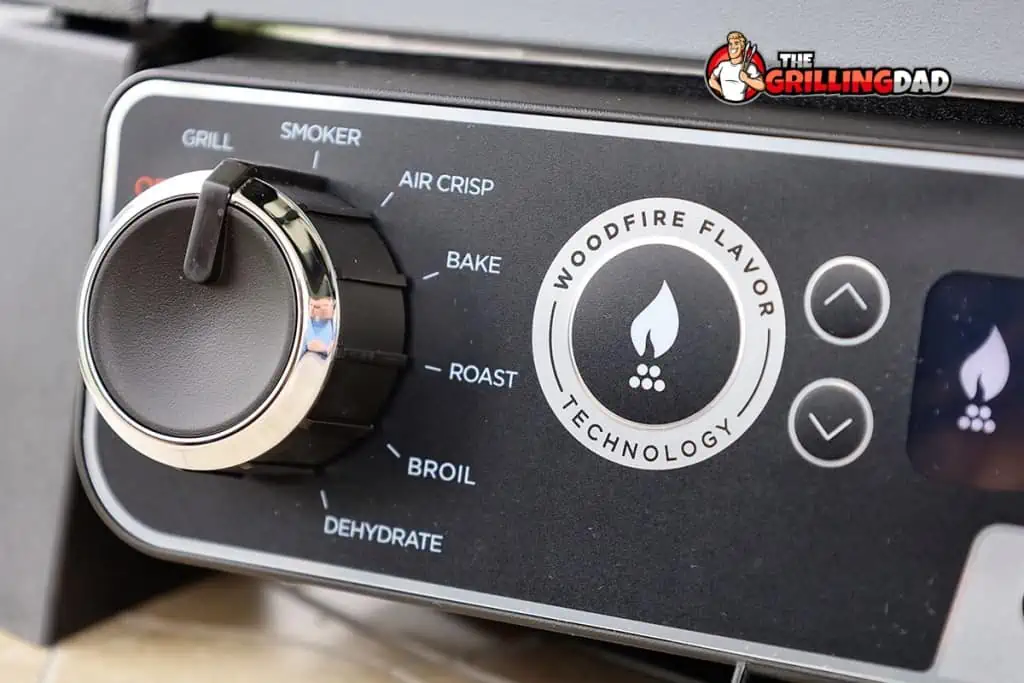 Ninja Woodfire Grill: Assembly
I was pleasantly surprised to see that the Ninja Woodfire did not require an engineering degree to assemble and that it came with everything I needed to get grilling. If you've ever assembled any kind of grill or smoker before you know it can be a true test of your patience, fine motor skills, and will to live.
The Ninja was all but ready to go, requiring only that I attached the handles to the body. A sizable Allen wrench and about two minutes later it was fully assembled. The handles even have L and R stickers to make the process foolproof. I then slid the drip pan and smoke box in and it was time to plug it in.
The large handles of the grill made it easy to carry to the back patio where I set the grill up on an outdoor table and ran an extension cord to a nearby outdoor outlet. Note: if you use an extension cord make sure to check the safety requirements in the manual.
Ninja Woodfire Grill Review: Features
This electric grill does a lot, and in my opinion, does it well. Some of my favorite features include:
Digital Control Panel: The digital control panel LED display makes it easy to see, set, and adjust the temperature of the grill.
Control Knob: On the left side of the control panel sits a knob for you to choose how you want to use the grill:: Grill, Smoke, Air Crisp, Bake, Roast, Broil, or Dehydrate.
Woodfire Flavor Technology button: sitting just to the right of the control knob is a well-designed button you can press to add that good smoky flavor to any of the cooking modes other than smoke (as it's already engaged for smoking).
Wood Pellets: We received two sample-size bags of 100% premium hardwood pellets: Robust Blend with a rich and smokey flavor and the All Purpose blend which is more mild and sweet.
The pellets deliver an authentic smoky flavor to any food, giving it a unique and delicious taste.
Other Accessories: The measuring cup is nice so I'm not overloading the smoker with pellets, and the quick start guide was clear and informative.
Integrated digital thermometer: the Pro Outdoor Grill also has a built-in thermometer and I was impressed with how easy it was to use and how accurate it is. Plus you can use the pre-set settings to program the grill to cook different meats to your desired done-ness, eliminating the need to babysit it while smoking or roasting – so you can chase the kids around the backyard for a bit.
It also has a nice holder tray that slides in the front of the grill – keeping it safe from damage and wandering off.
Related >> How Long Do Pellets Last (And How To Make Yours Last Longer!)
Ninja Woodfire Grill Review: Specifications
Height: 13.31 inches
Width: 23.62 inches
Depth: 18.58 inches
Interior Dimensions: 10-1/2 x 14-1/2 inches
Weight: ~31 pounds
Fuel Source: Electric + wood pellets
Voltage: 120V – 60Hz
Power: 1760 Watts
Temperature Range:105°F to 500°F
Cord length: 4 ft.
Price: $369-429
Warranty: 1 year limited
Ninja Woodfire Grill: Accessories
If you love your Woodfire grill as much as I do you might want to pick up a few of the accessories Ninja offers.
Grill Stand: If you don't have a tabletop or spot to set up, this portable grill stand is a great option. It has all-weather wheels, multiple utensil hooks, and even folds up for easy storage.
Combo Basket: Half the size of the standard air crisp basket, the combo basket allows you to grill and air crisp simultaneously. Burgers and fries? Done and done.
Griddle Plate: Cook foods with direct, edge-to-edge heat on a flat surface. From fajitas to pancakes, this would be a perfect addition to those camping or RV chefs.
Grill Cover: If you plan to leave your grill out on a patio, you need the premium cover. It is made of fade and water-resistant fabric, and I personally love the elastic drawstring at the bottom to keep the cover snug, even in our windy backyard.
Related >> Can I Leave My Pellet Grill Unattended? (And For How Long?)
How To Cook On A Ninja Woodfire Grill
I actually love how simple this grill is to use, I see myself opting for the Woodfire grill over our 'big' grill and smoker for quick weeknight meals and even for weekend bbq.
Grab the needed accessories depending on what and how you're cooking you might need the griddle or the crisper basket.
If you're smoking, add the wood pellets to the smoke box
Plug it in and choose your cook function from the controller dial
If you want to add a smokey flavor to your food but not all out smoke it, you can simply press the Woodfire Flavor Technology button, (if smoking it is automatically engaged).
Choose your cooking temperature and cook time. The grill will automatically stop cooking once your cook time ends.
The grill screen will display 'add food'; go for it.
Cook your meal according to your recipe (if you need to flip, baste, etc)
Pro Tip: I found that my recipes cooked a bit faster than expected so do keep an eye on your grill towards the end of your cooking time.
Enjoy!
Related >> Our Guide To Safely Using An Extension Cord with Your Pellet Grill
What is cooking with the Woodfire like?
It's easy and unintimidating! When cooking my brisket flat (which at 4.5 pounds fit perfectly in the smoker), I preheated the smoker on the smoke setting and filled the pellet smoke box with a scoop of pellets.
While it was warming up I took the regular prep steps of trimming, mustard-ing, and seasoning and then plopped it on the preheated grill (which dinged to let us know it was ready) and inserted the temperature probe.
I chose the smoke cooking option at 225 degrees and set the timer. Soon smoke began billowing out the back vent and the timer began to count down.
Because we had a longer smoke time of about four hours to reach a temperature of 190 degrees we did keep an eye on the smoker basket and added more wood pellets as needed
(just once). I think with a smaller protein or a shorter cook time one scoop would have been plenty.
The grill does suggest that you flip your meat or other food at the halfway point but our recipe said to keep the lid closed so we skipped the flip. If you do open the lid, the grill will temporarily stop the smokebox action and display a "shut lid" message on the display screen.
When the meat reached the required temperature the grill notified us with a beep and message on the screen. We turned the grill off, wrapped the brisket in foil, and let it rest in the smoker (still turned off) for an hour to lock in the juices.
Related >>Smoked Brisket Recipe (9 Easy Steps) | The Grilling Dad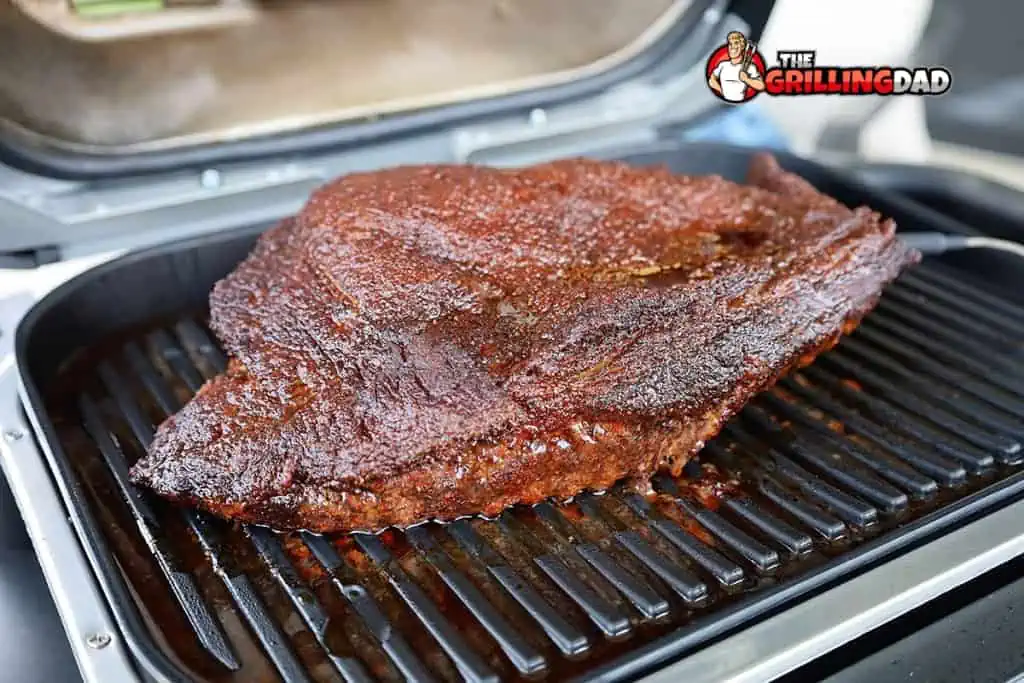 How Does The Ninja Woodfire Technology Compare?
While the smoker uses wood pellets I do think there is a slight difference between taste when compared to a traditional smoker. While most people won't notice a missing smoke ring on a brisket or the depth of flavor you can only get with an hours-long traditional smoker – those who are true smoker pros may sense the differences.
Don't let this deter you from trying out the Woodfire grill, everything I've smoked so far has had truly great flavor and tenderness. You really can get a similar experience from this grill as a 'big smoker' – without all the hassle.
Related >> Are Pellet Grills Practical for Everyday Use? (Can They Replace A Gas Grill?)
How to Clean the Ninja Woodfire
I am thrilled with how easy to clean every aspect of this grill is. The grate and air crisper basket are removable and nonstick so a quick hand wash in the sink is a breeze.
Emptying the smokebox ash was a ten-second dump and bump in the trash bin (where I also dumped out the drip pan – but that's between you and me) and again a quick hand wash. In the future, I will cover the drip pan with a piece of aluminum foil to make cleaning up even easier.
Then, I used a multi-purpose spray and dish towel to wipe down the exterior and called it a day. We could store the grill out on our patio but we opted to set it on a shelf in the garage just to keep it out of the Midwest elements. When you can experience all the seasons in one day it's best to use caution on outdoor items.
Overall, this required less effort than cleaning many of my other interior and exterior appliances.
Related >> How to Use Your Pellet Grill (7 Easy Steps)
Can I use the Ninja Woodfire grill indoors?
While its small size and the fact that it plugs in may tempt you to use the Ninja grill indoors, do not. For your safety and health, the Ninja Woodfire is an outdoor-only appliance.
Does the Ninja Woodfire grill run on electricity?
Yes, it's a fully electric grill with a wood pellet smoker box on the side that you can opt to use or not depending on what you're making.
Can you use any pellets in the Ninja Woodfire grill?
The woodfire owner's manual does state that you should use Ninja woodfire pellets exclusively. However, I do see several third-party woodchip suppliers offering Woodfire specific pellets.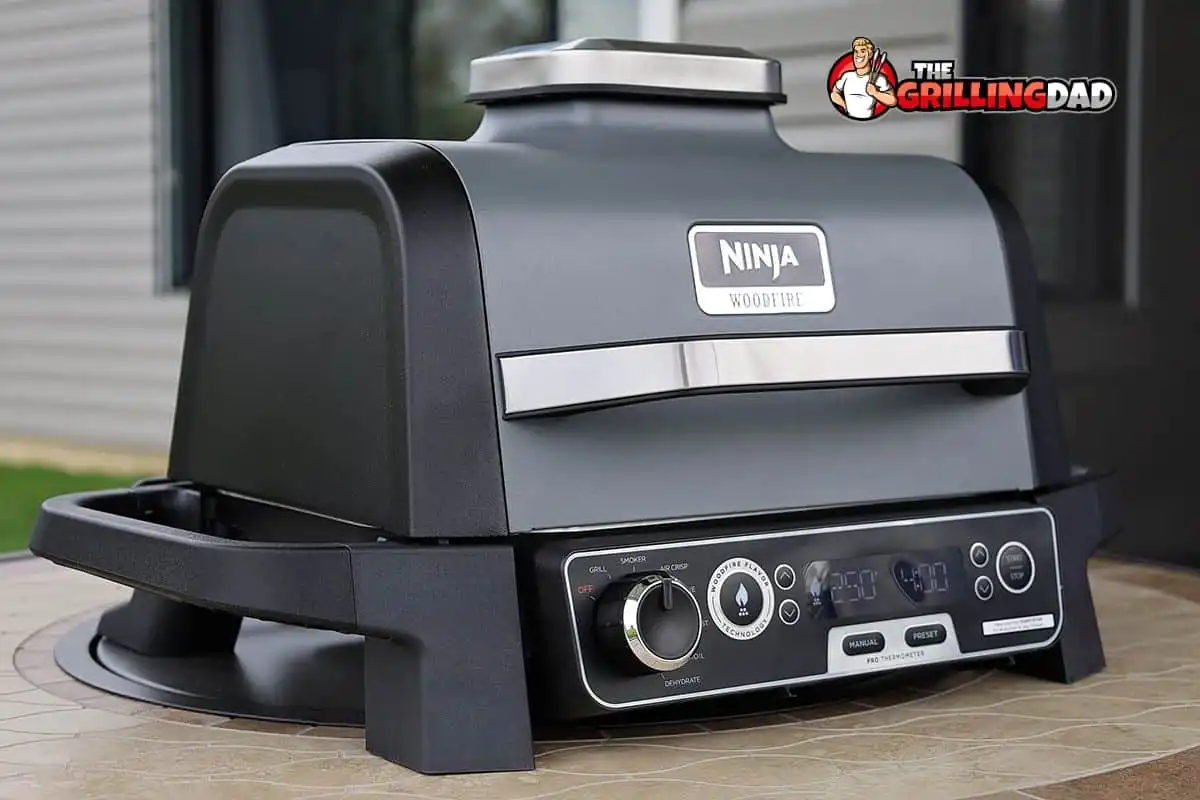 Final Thoughts On The Ninja Woodfire Outdoor Grill
Overall, I'm genuinely impressed with the Woodfire grill. I started out a bit skeptical but was pleasantly surprised. I think this grill could change your grilling and smoking life if you are in an apartment, an RV aficionado, or simply someone who loves to grill and smoke but doesn't have a ton of space to do it.
The only things that I wish were different is that more parts were dishwasher safe, but they do hand wash so easily so I really can't really complain) and a Bluetooth or wifi feature for the built-in thermometer would be a fantastic addition.
I see our family using this grill more and more and in more ways. I'm looking forward to trying out Pizza in Your Pellet Smoker, Smoked Shotgun Shells Recipe, and even just tossing some Frozen Burgers on the Ninja outdoor grill. I honestly would (and have!) recommended this grill to our friends based on the ease of use, its quality build, and the many features it can do and do well.