Did you recently purchase a pellet grill and now you want to learn all of the tips and tricks that will help you operate it properly? Look no further because we have the answers to all of your questions about pellet grills here.
In this TheGrillingDad.com article, you will discover:
Tips and tricks for using a pellet grill
Accessories you can add
And much more!
What You Need to Know About Operating Your Pellet Grill
If you just purchased your pellet grill, you most likely did some research on it beforehand. You should know that the pellet grill is rather unique in that it is a grill but it is also a smoker as well and should be treated accordingly.
There is a bit of a learning curve when it comes to operating your pellet grill in the beginning and it is worth your time to ensure that you are following the manufacturer's instructions. There are also many tips and tricks out there that can help you become better acquainted with your new pellet grill.
Here at TheGrillingDad, we want to make sure that you have all of the information you need to get started with your pellet grill. Below are all of the tips and tricks that you will want to know before you begin to operate your pellet grill.
Related >> Best Pellet Smokers
Overall Pellet Grill Tips & Tricks
For those just beginning to learn about how to operate a pellet grill, there are many tips and tricks that you will need to know. You should take the time to either talk to or read up on what some of the most experienced pellet grillers have to say about using this type of grill.
Keep reading to learn some of the best tips and tricks for using your pellet grill for the first time and for years to come.
1. Know How to Operate Your Pellet Grill Before Using for the First Time
One of the most important pieces of information you need to know about your pellet grill is how to operate it. In most cases, you cannot just take them out of the box and start them up without doing a bit of studying first.
Most pellet grills come with instructions provided by the manufacturer that will give you important information that you need to know before starting your pellet grill the first time. Following these instructions can keep you from making mistakes that can cost you time and money in the long run.
Related >> How To Use Your Pellet Grill
2. Season Your Pellet Grill Before Using
Before using your pellet grill the first time, you will need to do a thorough cleaning to get any leftover chemicals or residue off of the components. In addition, you should also season your grill before using it the first time.
Since your pellet grill is also used as a smoker, it is important to season it after setting it up but before using it the first time. Keep in mind that you should only have to season it one time and then every year afterward.
Related >> How To Season a Pellet Grill
3. Make Sure You Have Enough Wood Pellets Before Starting
One of the absolute worst things that can happen when you set out to use your pellet grill to do your outdoor cooking is to run out of supplies. This is especially true when it comes to your wood pellets since they are the fuel that operates the grill.
Before each grill session, you should check your wood pellet supply to ensure that you will have enough. It may be advantageous to purchase more every time you use your grill so that you will always have some in stock.
Related >> What To Do if You Run Out of Pellets Mid-Cook
For Easy Clean Up, Try Using Aluminum Foil on Your Drip Pan
Don't like to clean for a long period after using your pellet grill? Try using aluminum foil on your drip pan before putting in your food. This will keep any food remnants from sticking to your drip pan.
At the end of your grill session, all you have to do is remove the aluminum foil carefully and dispose of it properly.
Be Sure to Store Your Pellets Properly
In between your outdoor cooking sessions, it is important to store your wood pellets in an airtight container. This will keep any moisture from seeping into the pellets and causing them to ruin.
Related >> Can You Leave Your Pellet Grill Outside? Tips for Proper Storage
Most grilling retailers have an abundance of storage containers for you to choose from depending on how much you want to store at any given time. Choosing the right storage container can keep your wood pellets in good condition until you fire up your grill again.
Related >> How To Store Wood Pellets
Clean Your Pellet Grill Regularly
Another tip that can save you headaches down the road is to ensure that you are cleaning your pellet grill regularly. Doing so will keep the components free of residue and debris that can cause your grill to work less efficiently.
Most pellet grill experts recommend that you clean your unit after every 1-3 cooks at the very least. Others say that you should clean it after every session depending on how often you plan to use your grill.
Related >> How To Clean a Pellet Grill
Try Different Wood Pellets for Variety
If this is your first time operating a pellet grill, then you may not know that there are different flavors of wood pellets. The available varieties will give your meat a different flavor profile and allow you to find the one you like.
Some pellet grillers, after experimenting with the different pellets, find that they like a good combination of the different flavors. So, experimenting with different wood pellets will allow you to find what you and your family like best.
Cover Your Grill When Not Using
Since your pellet grill is stored outdoors, it is recommended that you purchase and use a quality cover over your unit when not in use. This is an important step in maintaining your pellet grill so you can use it for years to come.
Depending on where you live, the weather may fluctuate more or less throughout the year. Because of this, you should always have a cover handy so the weather does not damage your pellet grill.
Related >> Best Insulated Pellet Grills for Winter Grilling
Follow the Manufacturer's Recommendations
One of the most important tips that are available for operating your pellet grill is to always follow the manufacturer's recommendations and instructions. This applies to all aspects of using your grill from setup to cleaning.
Since most pellet grills are not exactly cheap, following the manufacturer's instructions will keep you from causing irreparable damage to your unit. Before taking it out of the packaging and setting it up, you should take the time to read through the owner's manual first.
Related >> How to Manually Light a Pellet Grill: A Step-by-Step Guide
Purchase Accessories for a Different Experience
Have you been using your pellet grill for some time and are ready for a new challenge? If so, you may want to consider purchasing some of the accessories that are offered to create new grilling experiences.
You can typically find these different accessories either wherever you purchased your pellet grill or at other retailers online or in person. Keep in mind that you should always do your research before purchasing to ensure what you are getting yourself into.
Tips for Starting Your Pellet Grill
When it comes time to begin your grilling session, there are specific details that you should be familiar with. While reading your owner's manual will ensure that you know what to do, there are some tips and tricks only those who have been there can help you with.
Check out the following tips and tricks that will help you get started with your pellet grill.
Related >> Can You Use Your Pellet Grill in the Garage? (Safety Tips)
Ensure Your Grill is Connected to the Power Outlet
Before you begin operating your grill, you will need to ensure that it is connected to a power outlet. Because of this, you will need to find the best location for your pellet grill that is in close proximity to a plug.
Load in Wood Pellets
As you are beginning your grilling session, and have ensured that the unit is plugged in, it is now time to add in your wood pellets. You will need to know how much to load in before starting so you will not have to continue loading throughout the grilling process.
Make Sure Your Hopper is Ready
In most cases, especially if you are using your pellet grill for the first time, you will need to prime your hopper to make sure it works properly. This requires you to press the prime button to allow some of the fuel to enter the hopper prior to starting it up.
Set the Dial to Smoke and Open the Lid
Once the hopper is prepared, you should be ready to start your pellet grill up and get started on your cooking session. To do this, you will simply need to turn the dial to smoke and then open the lid and let it do its job.
Related >> Are Pellet Grills Good for Burgers? Tips and Tricks
Watch for Smoke Billowing Out
You will know your pellet grill is ready to go once you see smoke billowing out of the grill. This indicates that enough of the fuel has made its way through the hopper and into the firebox to begin your cooking process.
If you want a complete guide on starting your pellet grill, we've got that handy for you.
Tips for Cleaning Your Pellet Grill
Most everyone knows that the best way to keep your pellet grill in the best condition is to make sure that it is cleaned regularly. Knowing the various ways to do this will keep your pellet grill working properly.
Not sure how to clean your grill? Check out these tips and tricks for keeping your pellet grill in the best shape possible.
Remove and Clean the Grates
Whether you have chosen to clean your pellet grill after each session or after every few, you will need to start by removing the grates. This will allow you to clean them better outside of the unit to ensure that all of the debris is gone before putting them back into the grill.
Take Out Any Removable Parts
Since you are cleaning, it makes the most sense for you to take out any removable parts so you can ensure the best cleaning job possible. This will allow you to clean underneath the various parts to ensure nothing is left behind that could potentially damage the unit.
Scrape any Remnants Off of the Entire Grill
Use a putty knife or gentle scrubber to scrape any remnants left on the components of your pellet grill during the cleaning process. Doing so will allow you to maintain the best flavor profile of anything you cook after the cleaning process.
Use a ShopVac to Vacuum the Grill
Once you have cleaned and scraped everything you can, it is time to take out your trusty ShopVac to vacuum out any dust and ash that remains. Being thorough with this step means that your unit is in the best shape possible.
Thoroughly Clean the Grease Bucket
No cleaning of a pellet grill is complete without making sure that the grease bucket is not only emptied but also thoroughly cleaned. Even though the grease is in a bucket and away from the components of the unit, you still need to ensure that it is cleaned regularly.
Clean Out the Chimney
While this is not a step you will have to do after every grilling session, you should take the time to clean out the chimney regularly. In some cases, remnants of the smoke can build up over time and cause your unit to not run as smoothly as possible.
Wipe Down the Exterior
Once you have completed all of the above steps, you should make sure to wipe down the exterior of your pellet grill. This step will keep your grill looking as nice and clean as when you first bought it and keep it from becoming an eyesore.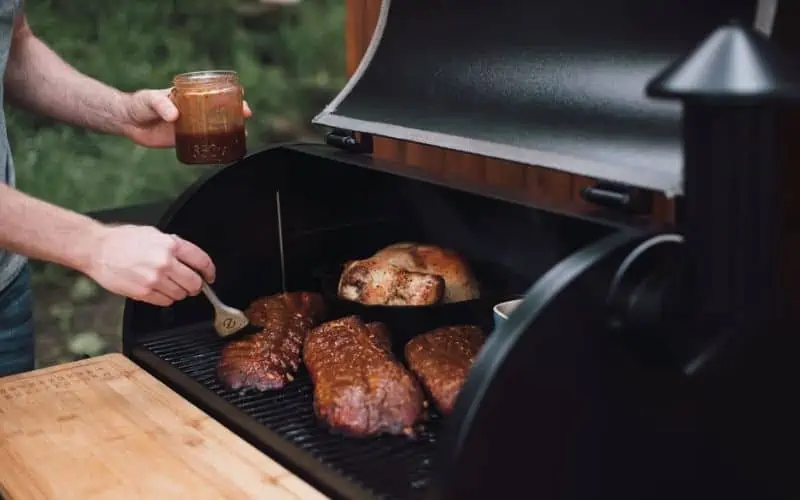 Helpful Add-Ons For Your Pellet Grill
For many grillers, adding in certain accessories can make your grilling experience even more enjoyable. While these are not completely necessary, there are some that you may not want to go without.
Wondering what accessories will make your grilling sessions go more smoothly? Check out these helpful add-ons for your pellet grill.
Magnetic Accessory Hooks
If your pellet grill does not come with added hooks or a place for you to store your grilling tools, you may want to consider purchasing a set of magnetic hooks. These Traeger Pellet Grills Magnetic Tool Hooks will come in handy to hang your favorite grilling tools on.
Meat Thermometer
No grilling session is complete without the use of a high-quality meat thermometer. While some pellet grills come equipped with them, there are some cases where you will have to purchase your own such as this LSENLTY Digital Instant Read Meat Thermometer.
Grill Cover
Since your pellet grill will be stored outdoors at all times, it is a good idea to purchase a cover that can be used when you are not using your grill. While the cover you buy depends on the brand of pellet grill you have, check out this Traeger Pellet Grills Full-Length Grill Cover that works great on any of your Traeger grills.
Ash Vacuum
As recommended in the section on cleaning, you should have some kind of ash vacuum handy to do a thorough cleaning of your pellet grill. This Ash Vacuum Cleaner is multifunctional and will work amazingly for cleaning the ash from your grill.
Pellet Storage Container
Storing your wood pellets is of the utmost importance, as stated previously, to ensure that they are in great condition for your next grilling session. This Traeger Wood Pellet Storage container comes equipped with a locking lid to make sure your pellets stay nice and dry for your next grilling experience.
Vegetable Grill Basket
Do you want to grill vegetables on your pellet grill, but they keep falling through the grates? Don't worry because this Kona Vegetable Grilling Basket may be the answer you are looking for to keep your vegetables in one place. With the mesh bottom, your vegetables will be cooked to perfection without the chance of them sticking to the basket.
Smoker Tube
Want to add an even better smoke flavor to your favorite meats? If so, a Smoker Tube may be the perfect accessory for you. This tube is 12 inches long and allows up to 5 hours of smoke to ensure that your meat has the robust smoky flavor you may be looking for.