Do you want to transform your backyard into something more? Building a BBQ shack might be just what you need. From an area dedicated to grilling and outdoor cooking to an area just for chilling during the big game, there is nothing quite like building your own unique backyard BBQ shack.
It can be hard to know where to start, though! So, let's take a look at what elements your BBQ backyard shack should have, as well as some of the best ones we've seen on the internet!
Best Backyard BBQ Shacks
1. Metal-Sided BBQ Hut by Bruce Power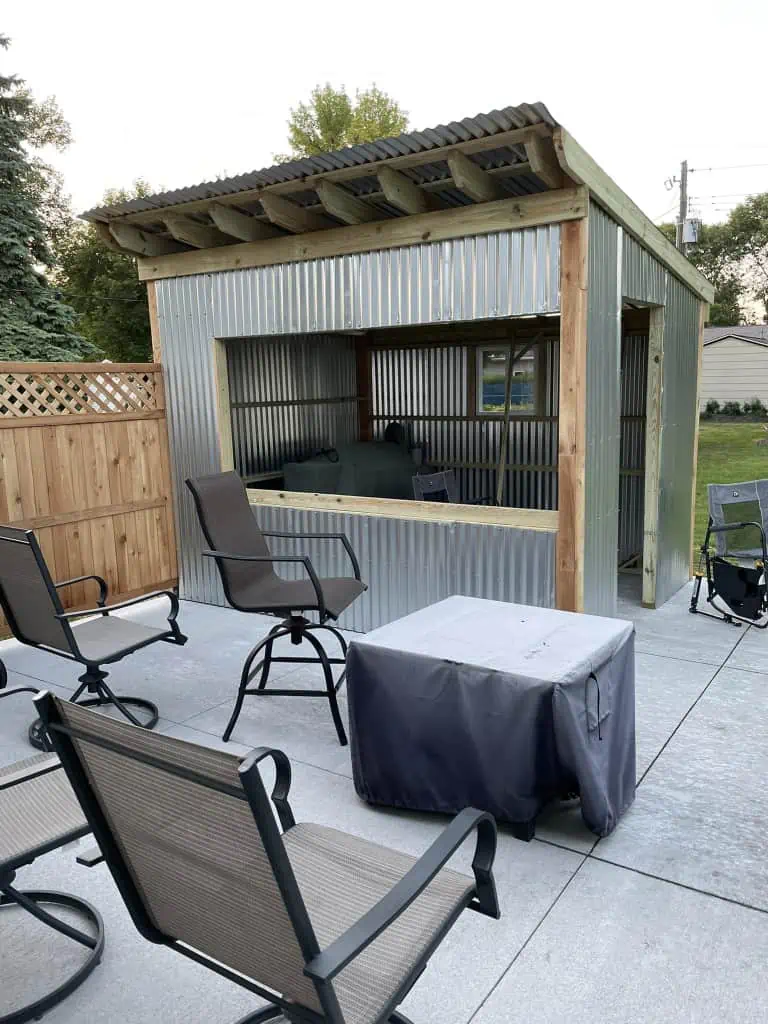 The best part of a BBQ shack is that it usually includes a roof, meaning you can grill in it during any weather—rain or shine! This shack is a little on the smaller side, but with a large sitting area on the patio just outside, you can grill and relax in style.
There isn't a TV, but we suspect you could put a projector on the table as long as you have a large sheet or screen to hang up!
2. BBQ Shack with Tiki Bar by Chris Marttila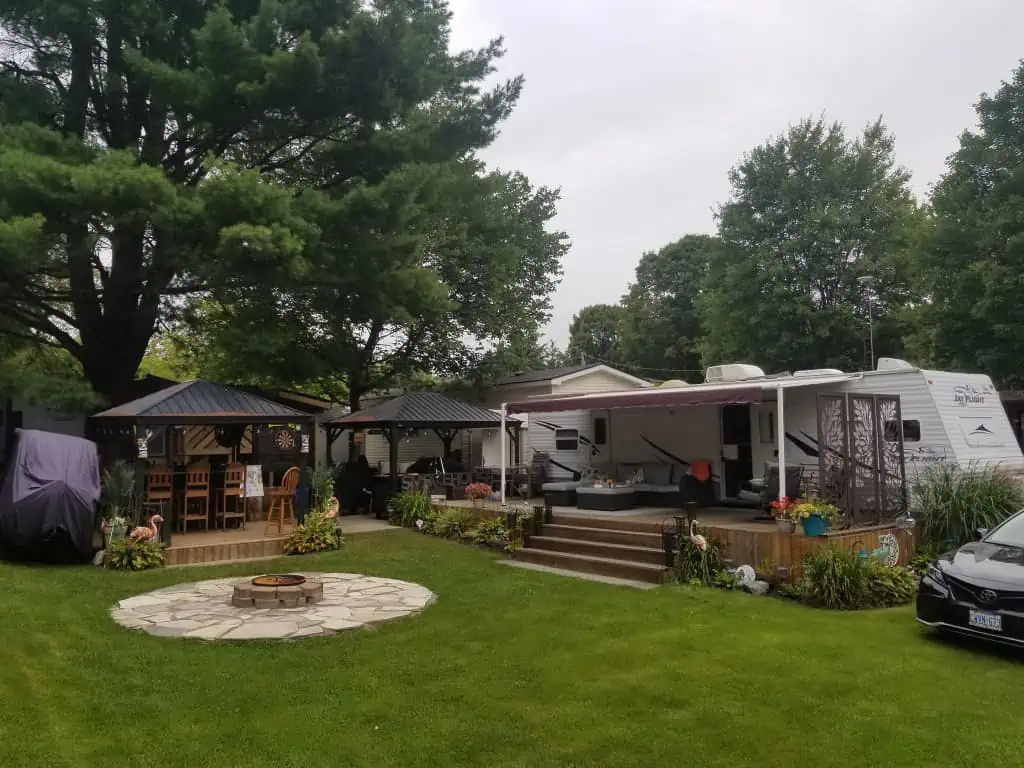 This unique BBQ shack against an RV by Chris Marttila is easily one of the best we've ever seen. It starts with a raised patio right off the RV door that provides ample coverage for the lounging couch.
In the corner is the BBQ portion with a roof to keep the area dry. Next to that is the tiki bar, complete with seating and a dart board, so you and your buddies can grab drinks before you get down to business!
Add in the finishing touches of a TV by the bar and the word "smokehouse" over the section where the grill is situated, and you have yourself a top-tier BBQ shack!
3. Cozy Shack by Steve Cross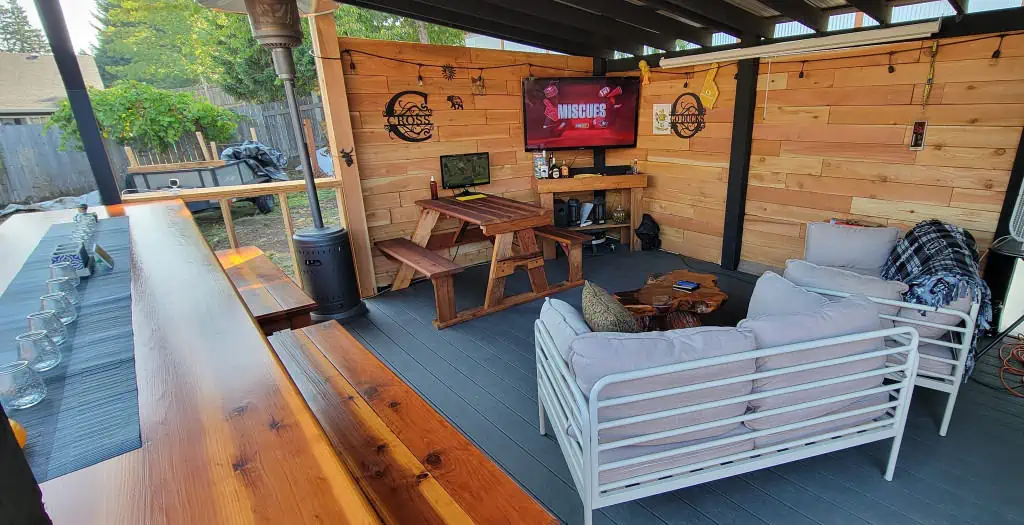 We love a cozy BBQ shack with a variety of seating options. This shack by Steve Cross has it all: a bar, a picnic table, and two couches, so you can pick your favorite spot to sit.
With two TVs and a projector screen, you can definitely relax in this shack, and there's a gas heater to keep you warm as you chill year-round. We can't see the grill in this photo, but we assume it's there in the corner somewhere!
4. Smoker's Dream Shack by Paul Holt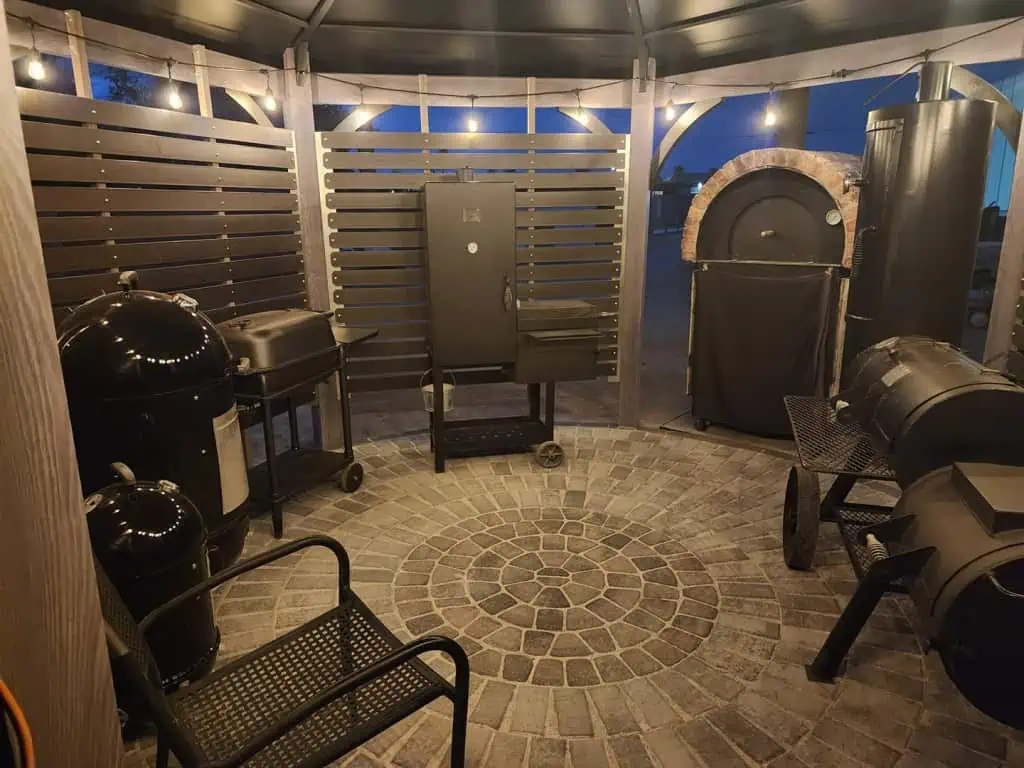 Do you have a bunch of smokers and grills that need a space to live? Consider building a BBQ pagoda like Paul did to protect all your appliances from the weather. Plus, this BBQ shack has a brick pizza oven and a chair for sitting, so you never have to leave your meat unattended.
We like this shack because it allows enough airflow that you don't need to move your grill before you use it. It's got a nice string of lights for those late-night BBQ sessions and a beautiful paver patio.
5. Winter BBQ Hangout by Jeff Travis
Do you live somewhere where it is cold most of the year? Don't let that stop you from building a BBQ shack! Jeff added a small wood stove and some outdoor curtains to his so he could hang in it all year round. We especially love the wall signage, which adds a unique finishing touch.
6. Basic BBQ Shack by James Mayfield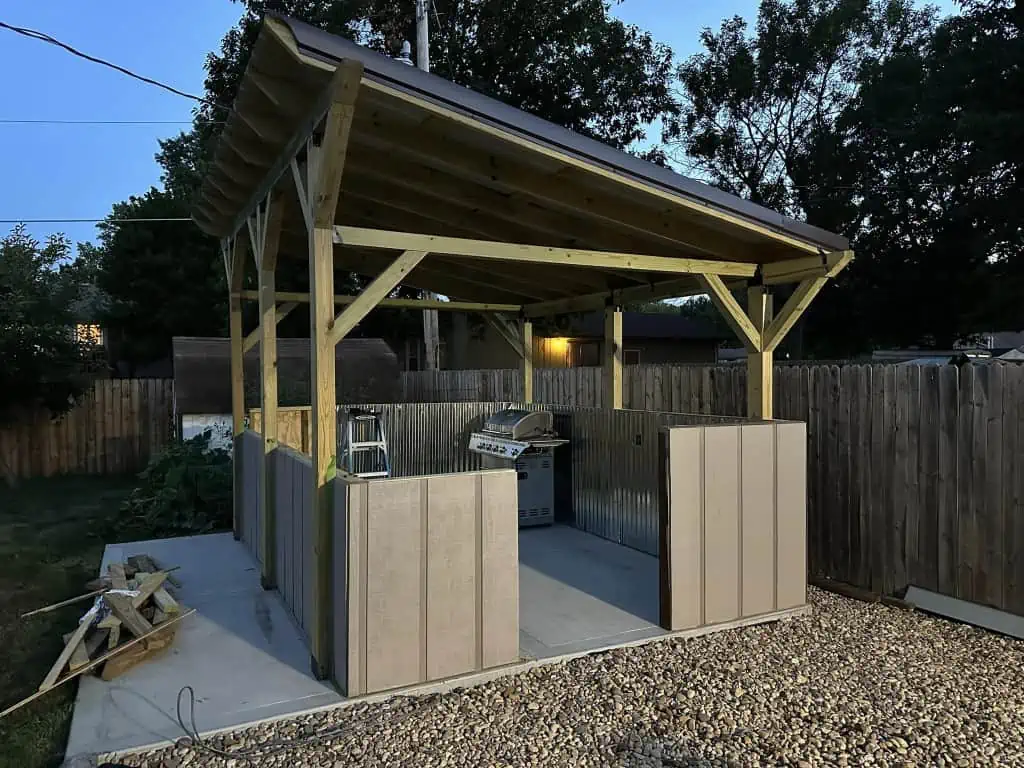 BBQ shacks don't always have to be super fancy. Sometimes, they can just be a small shelter to protect your grill, as well as some grill-friendly flooring. While we suspect James isn't quite done with his shack yet, we do love the direction it is going with simple walls for his gas grill and plenty of room to add a counter, fridge, and more.
7. House-side BBQ Shack by Tobin Willhite
If you have a patio already, that may be the perfect spot to place your BBQ shack. All you have to do is find a patio covering or pergola to fit. Tobin added sunshades and lights to his creating a cozy evening hangout spot.
He also added some wall décor to make the space homier, and there are two sets of tables and chairs, so hosting friends and family is a breeze!
8. Full Bar BBQ Shack by Greg Hull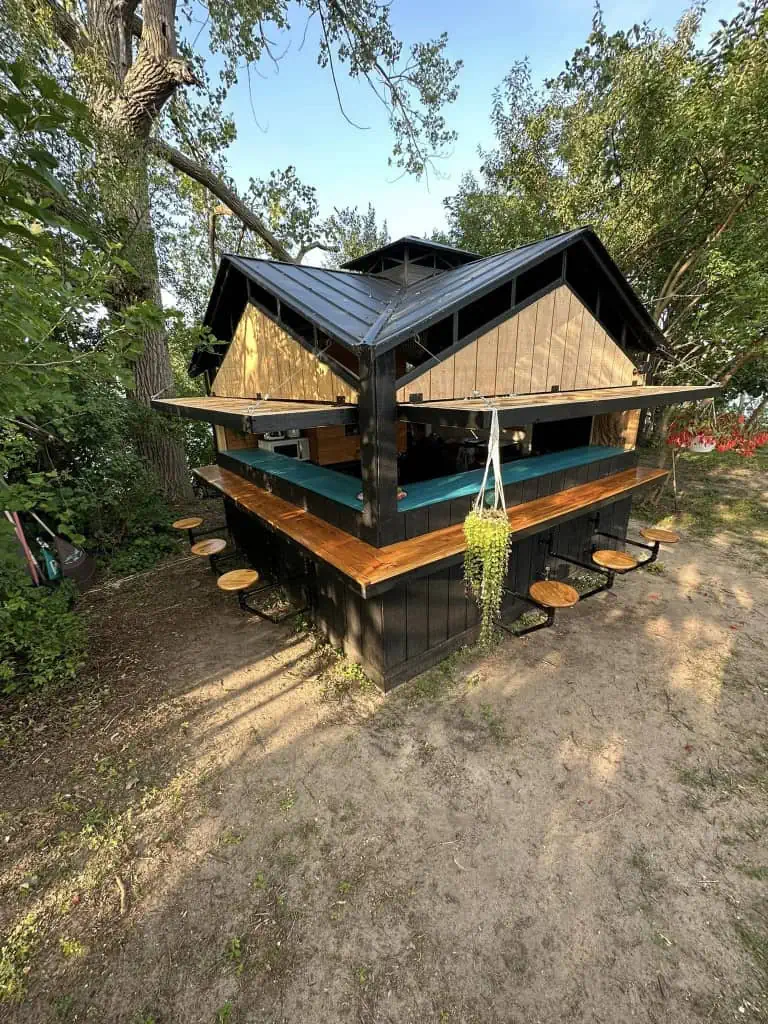 This full-bar BBQ shack has it all: 6 seats at a high-top bar, a grill, a countertop, and even a microwave for making some late-night popcorn! The sides fold up providing some shade from the sun or coverage in inclement weather and fold in easily when you are done using it for the season. There's even a plant hanging in the corner for some extra flair.
9. Beer BBQ Shack by Rob Blatter
There is nothing like adding a few neon light signs to really spruce up a backyard BBQ Shack! Rob has added quite a few to his already stellar shack. He's got a TV for game day, a built-in grill, countertop space, and even a kegerator for dispensing the brews!
The rug on the floor is a nice homey touch. Overall, this is a 10/10 BBQ shack!
10. BBQ Shack with TV by Samuel James
One of our favorite elements to include in a backyard BBQ shack is a TV. There is nothing quite like enjoying a cold beer and some succulent burnt ends while enjoying the big game! This shack, by Samuel, is simple; it's got a covering, seating, and TV, but it somehow feels super luxurious, especially when you spot that Kamado Joe nearby.
We also like that there is a fan and some rope lighting to ensure the occupants of the shack are comfortable year-round.
What Should a Backyard BBQ Shack Include?
Obviously, no single backyard BBQ shack is perfect for everyone, and what you have in yours will depend on your resources, preferences, and creativity. But there are some things that we think are essential to making a nice BBQ shack, and we have listed them below!
Grill/Smoker
There is only one item that must be in a BBQ shack, and that is a grill or BBQ! While some people choose to make a shack large enough for all their appliances, others may choose just to leave a spot for an appliance and rotate between their smoker and grill.
We think that having all your grills and smokers in the same place is best, but that is just our opinion!
Nice Grill-Safe Flooring
If you are going to have a grill or smoker in your BBQ shack, it is critical to have safe flooring to put it on. Placing a grill on the grass can be a fire hazard not to mention it could kill your beautiful lawn! We recommend pouring a simple cement slab at a minimum, but you can also put in tiles, patio pavers, or a wood floor, depending on your preferences.
Coverage
A roof is pretty much required for a backyard BBQ shack, otherwise, your grill area won't really be a shack! You have several options when it comes to a roof, from a gazebo to an awning and more.
For more ideas, take a look at our temporary patio enclosure winter ideas.
A Place to Sit
While standing and grilling is an art form, once you get into 8-hour smoke sessions, you are going to need somewhere to sit. If you want your backyard BBQ shack to be your alone time, then one chair will be sufficient, but if you want to share your shack, definitely grab a few chairs!
If you have enough space, a table can be a nice addition so you can enjoy what you make in your BBQ shack. You can also consider adding a bar or lounge chair for an extra cool hangout spot.
A Surface For Cutting
The point of having an amazing backyard BBQ shack is to enjoy smoking, grilling, and eating BBQ. While you can head inside to prepare your meat for consumption, we think having a countertop in your backyard BBQ shack is a game changer.
Some people choose to install a permanent counter, while others choose to grab a rolling outdoor cart or table that can be moved depending on your mood.
Storage Space for BBQ Supplies
We don't know about you, but our BBQ supplies tend to stack up. From brushes to spatulas and grease buckets, we truly do have it all. Plus, we have a pellet grill, meaning we've got to keep fuel on hand, too. Therefore, we recommend that your BBQ shack should also have a cabinet of some sort to store these items.
The best cabinets will be raised off the floor (to avoid moisture collection) and be secure from animals and pests. Take a look at our best outdoor kitchen kits for more ideas for outdoor cabinets.
A Power Source
If you've got a pellet grill or an electric grill, you probably already assumed that you would need a power source for your backyard BBQ shack. Even if your grill is gas or charcoal, we highly recommend having some sort of power near your shack so you can add things like lights or a fridge.
Of course, some people do just fine without lighting, but we think it adds a really nice touch!
Lighting
Speaking of lighting! Lighting in a backyard BBQ shack can be extremely helpful during the darker winter months and allow you to enjoy your shack deep into the evening hours. Lights are also a must if you intend to do any overnight smoking of things like brisket or pork butt. Some grillers choose to go with a simple strand (or two) of hanging lights, though rope lights can also be a cool addition.
You can also consider a more permanent lighting source or do something unique with lit signage, like a neon beer sign.
Entertainment
Whether or not you include entertainment options in your backyard BBQ shack will depend on how much time you plan to spend in your shack. If you plan to spend time there with family and friends, then a dart board or other social form of entertainment will probably be best.
But, if you want to spend some alone time with just you and your smoker, then a TV can help pass the time.
Fridge
If your backyard BBQ shack has enough space, it can be a good idea to add a fridge. This will let you keep some of your favorite grilling ingredients handy, as well as provide a space for your beers.
For those solely interested in a beer fridge, take a look at our best beer fridges to find the one that works for your BBQ shack.
Heating
Not all backyard BBQ shacks will need a heater. But for families who live in the colder states, an electric heater can go a long way to allowing you to enjoy your BBQ shack year-round. There are also gas heaters for your patio, but we think the electric ones are the most convenient, especially if your shack has electricity!
Take a look at our best electric patio heaters to find the one that is best for you!
Your Dream Backyard BBQ Area Awaits
Now that you're inspired, are you ready to create your own Backyard BBQ area? We created a handy guide to help you design the go-to spot for family and friends to enjoy a nice outdoor dinner or social gathering!