An outdoor BBQ area can be the perfect thing to escape the summer heat or host a backyard barbeque with family and friends. If you're looking to spice up your outdoor kitchen, look no further than this article.
In this guide from The Grilling Dad, you'll learn:
Backyard BBQ design tips
Ideas for a backyard BBQ
And much more!
What You Need to Know About Backyard BBQ Area Design
You may think that in order to have a backyard BBQ area, you must invest a lot of money in contracting work, or that you have to have a ton of space to work with in your backyard. This is simply untrue, as a backyard BBQ can be as simple or as complex as you'd like it to be. As long as you have a backyard and a barbeque grill, you can get started on your backyard BBQ area!
Because this project can be so varied, before you begin you must decide what you are trying to accomplish.
How much money do you want to spend on this project?
How much space do you think the project will take up?
What kind of barbeque grill do you want to use in this area?
Would you like more than one cooking apparatus?
Do you want an outdoor seating area to complement your barbeque?
There is a lot to consider when diving into a project such as this one, but there are also a lot of benefits to having a dedicated BBQ area in your backyard. You must be sure of what exactly you are planning to do with the space as well as how many resources you want to put into the project. The final result will be a beautiful space for loved ones to enjoy for years to come.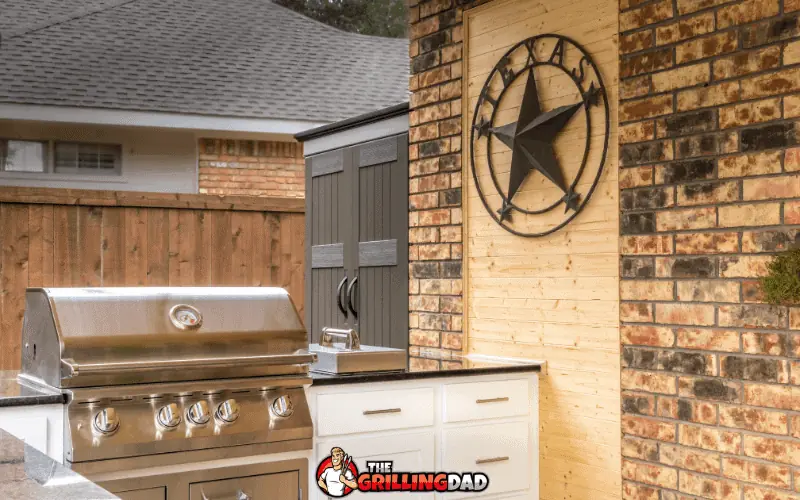 Why Should You Design Your BBQ Area?
There are a multitude of different reasons to design your own backyard BBQ area. For one, barbeque grills can be an expensive investment, and you will most likely want them to have a functional area around them in order to get the most out of your purchase, much like an indoor kitchen.
Having a specific spot for your grill will turn your backyard essentially into a second kitchen and will make cooking on your grill a much more enjoyable experience.
If you plan on having company over, a backyard BBQ area is the perfect place to host a gathering of people that may not fit perfectly indoors. On days with nicer weather, you can transform your backyard into a venue to get your company outside to enjoy the fresh air. This is especially helpful if you're hosting a larger party that may not fit comfortably inside.
A backyard BBQ area can also be the perfect place to escape the heat of cooking indoors during hot summer days. If you are preparing a dish that requires a long cooking process, an outdoor kitchen area will prevent all the heat of cooking from radiating around your home, making it much more comfortable on those higher temperature summer days.
It also gives your family or friends a reason to enjoy anything else your backyard may be equipped with, like a conversation pit or a pool. Switching up the venue of your dinner can be a very refreshing thing, even if you are simply moving from your indoor dining table to your outdoor dining table.
Having a dedicated backyard BBQ area can also increase the value of your home, should you be interested in selling or at least having it appraised.
A nice backyard with an outdoor kitchen, if done properly, can definitely add value to your home, as it takes away an expense for the future owner, if it is something that they wanted to have done anyway. It is also something that many prospective homebuyers could be looking for and may be the feature that pushes them over the edge for a purchase.
Related >> The Best Outdoor Kitchen Kits
Tips for Backyard BBQ Area Design
Before you dive into constructing your dream backyard BBQ area, there are a few questions you should ask yourself in regard to the project. A project such as this has the potential to be as big or small as you'd like, so consider the following when building your outdoor kitchen.
Budget
For most, budget is one of the biggest considerations in planning a backyard BBQ area. Set aside a reasonable amount of money for this project by considering exactly what items you are going to buy.
Do you need a grill, or do you already have one? Do you need any outdoor furniture? Are you going to need any professional contracting work done? How much would you like to spend on these items? These are just a few things to ask yourself when it comes to budgeting these projects.
Related >> Best Gas Grills Under $300
Space
Everything you want to do in your kitchen is going to be confined to the space you have available. Get an estimate for how many items or pieces of furniture are going to be able to fit in the places you want them to be. Make sure the pieces that you buy have ample room in your space to ensure a nice flow in the area.
Related >> Best Grill Gazebos
Weather
Climate considerations can sometimes become an afterthought in projects like these. However, it is very important to think of the weather in your area and how it will affect your space.
Is your BBQ area covered? Is it exposed to the elements? How will the furniture and grills you've purchased stand up to harsher weather conditions? Will you need to move anything from the space during certain seasons? Make sure that the things you purchase are able to withstand the weather conditions.
Related >> How To Secure Your Outdoor Furniture and Grills
Cooking Methods
While your backyard BBQ area can be a very aesthetically pleasing place, it should also be a place of function. Make sure you consider what methods of cooking you want to be available to you in the space. Would you like to cook over a gas grill or over a charcoal grill? Are there any supplementary pieces you will need?
These can include a sink, fridge, or even a pizza oven. What kind of meals would you like to cook in the space? These are all things that can change the way you construct your space and are very important for the planning process.
Related >> Best Pellet Gas Combo Grills
Reason for the Space
It's also important to consider what the space is for. How many people do you think will comfortably fit in the space? Is it simply for cooking or would you like to host meals in the space as well? What kind of furniture or appliances do you need in order to accomplish what you are trying to do?
If you plan on hosting large parties frequently, consider getting a larger furniture set to accommodate the people. If you are simply looking for functionality, make sure that you have the best cooking tools available to you. Your design really comes down to what your vision for the space is.
Backyard Area BBQ Design Ideas
Now that we've gone over everything there is to consider when planning an outdoor kitchen, as well as the benefits of having one, let's get into some design ideas!
Idea #1: Ideas for Smaller Spaces
For those that don't have a large amount of space available to them, there are still many things you can do to spruce up the area around your grill. If you need a grill to fit in the space, a small one like this charcoal grill can fit in a very tiny space and will store very easily.
Some grills can easily be put on a table to increase height, but make sure that the table is heatproof and nonflammable, should any coals fall onto it. This two-burner gas alternative should also fit in a confined space if you prefer cooking with propane.
If you already have your grill, and are looking for more supplemental pieces, a small outdoor table set such as this one can be the perfect place to enjoy the meals that you cook on the grill.
Furthermore, simply adding a small, portable food prep table will add a lot of functionality to your area. Since it is portable, it can also be moved out of the way or into storage if need be.
If you're looking for a more permanent option, you can also hire a professional contractor to build a small space that can fit your grill measurements perfectly, for a more seamless look.
Using smaller items like these can turn a single grill into a perfect leisurely spot for breathing in the fresh air on a nice day.
Idea #2: Make an Outdoor Kitchen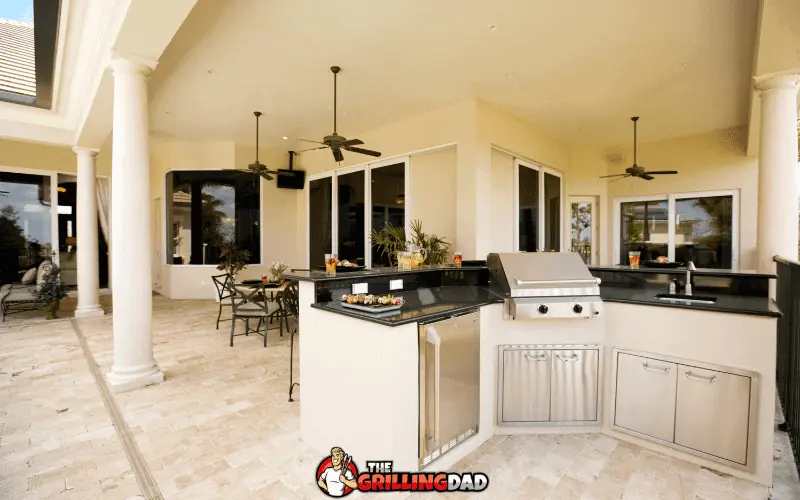 If you want to have a complete kitchen outdoors, a few tables with storage cabinets can provide ample space for prep work and for storing ingredients. For things that need to be refrigerated, a compact mini fridge can fit seamlessly into your set up. Any complete kitchen should also have a dining table, and a set that can accommodate large parties while providing a comfortable dining experience.
Once again, if you'd like something that fits your appliances perfectly, or would like control over the exact dimensions or materials of your outdoor space, a professional contractor can help you to construct the perfect outdoor space for cooking.
This kind of outdoor space can be used for a nice outdoor dinner with the family, or even for extended company to enjoy a meal in the backyard.
Idea #3: Add a Lounge Area
For those looking to add a lounging spot to their backyard BBQ area, an outdoor sofa set can become the perfect place for your loved ones to enjoy a nice day or to wait while their food is being cooked.
A backyard firepit or a patio heater can also serve as the perfect center piece for this area on colder nights. Outdoor string lights can also provide a nice ambient lighting to the setting. These pieces will make the perfect setting for an outdoor dinner.
If the area you'd like to use is not covered, a pergola can provide some essential protection from the elements. A covered area will also provide cover from wind, which may interfere with your cooking process.
A lounge area can be the perfect place to hang out when the weather is nice and while you enjoy an outdoor cooked meal.
Idea #4: Add a Bar Area
For those who have the space, a nice bar area can be the perfect addition to your outdoor kitchen space. Something like an outdoor bar table set can be a nice, smaller scale part of your space. If you already have a bar, a set of barstools will add a beautiful depth to your area, and will make your backyard feel like a real bar! You can even add a portable, rolling ice chest cart to add more functionality to the space.
These additions can greatly improve the social dynamic of your backyard and are perfect for hosting and enjoying a few drinks.
Idea #5: Hire a Professional Contractor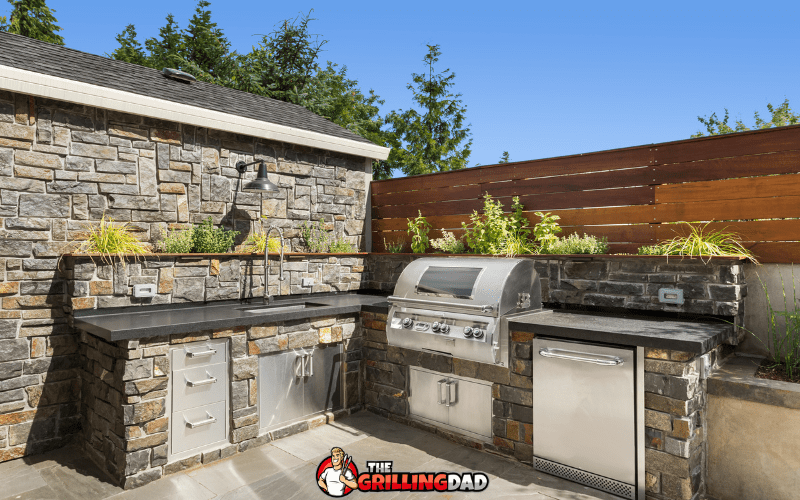 If you have a larger budget and a large space available, call up some local contractors and designers to see what they can do for you. You may find that they are able to fit your vision better than simply buying a few pieces of furniture can.
Contractors offer the ability for you to really customize and dial in the exact specifications for your backyard area. You'll also be able to choose the materials used, which makes it much easier to match any complementary pieces of furniture you purchase.
Keep in mind that this option will most likely cost much more than buying premade furniture and will also take much longer to finish. However, no other option will give you the freedom and flexibility of customization that a professional contractor can provide.
Get Inspired by Others' Backyard BBQ Shacks
To best understand what you desire for your backyard BBQ area, simply check out what others have done! You'll quickly learn what you like and what you don't. Use this list of Amazing Backyard BBQ shacks as a starting point. The creativity of others is awesome. And it might just be contagious.
Final Thoughts on Backyard BBQ Areas
While, technically, all you need to have a backyard BBQ area is a barbeque grill and a backyard, there are a myriad of things you can do in order to spice up the area surrounding the grill. With some of the ideas and products listed above, your backyard can become the go to spot for your family and friends to enjoy a nice outdoor dinner or social gathering.