Do you have a patio that you would like to use for winter but you aren't sure how? We've got some solutions for you!
In this TheGrillingDad.com article, you will discover:
Temporary patio enclosure ideas
Tips for making your patio winterproof
And much more!
How Do You Temporarily Enclose a Patio?
There are several different ways that you can enclose your patio for winter. The method you choose will vary widely based on the design of your patio as well as how you plan to use it for winter.
For example, those who only want to be able to grill will want an enclosure that is still airy and not necessarily restrictive of letting smoke escape. But if you and the family want to sit on the patio all winter, then something a little thicker is going to be necessary.
We've gathered all types of ideas for the patios we've come across. Take a look at them all before you decide on the best one for you!
Related >> Can I Leave My Patio Furniture Out All Winter?
Temporary Patio Enclosure Winter Ideas
Idea #1: Mount an All-Season Sunroom
The first idea on our list is one that will require a bit of work, but it will truly allow you to use your patio throughout the entire winter season. It's also a bit pricey, but hey, it will extend the amount of living space you have to work with drastically!
It's basically an outdoor gazebo that you will attach to one of the walls of your house. It's made from heavy-duty steel and has mosquito netting to keep the bugs at bay. We know you may only want it for winter, but once you put it up, you will find that it is nice in the summer as well. The windows can be opened in the summer or remain shut in the winter, and the sun will still be able to stream in.
We don't recommend grilling in this enclosure, but you can put up a table and chairs and move your smoker and grill just outside of it to make a sweet outdoor dining experience.
Pros:
Excellent protection from elements
Great insulation in cold months
Feels like adding square footage to the home
Bug protection
Cons:
More permanent than other options
You're gonna have to move your grill outside of the enclosure
You're probably going to want to leave it up year-round
Related >> The Best Gas Patio Heaters
Idea #2: A Gazebo with Curtains
If your patio is nothing more than a slab of concrete, then ordering a gazebo with weatherproof curtains is a great and affordable option. Simply pop it open over your current patio, stake it down, and you've got protection all year round.
We like this option because you don't necessarily have to move your grill or smoker as long as they can be operated so they won't catch fire to the curtains or cloth ceiling. The problem is, this enclosure isn't going to offer much protection from the cold.
But if you live somewhere where rain is more of a problem than snow and cold, this enclosure is ideal for your family, and it can be removed at the season's end.
Pros:
Affordable
You don't need to move the grill
Easy to put up and take down with the seasons
Cons:
No protection from the cold
Not a ton of protection from the elements
Related >> The Best Grill Gazebos
Idea #3: Outdoor Event Tent
An outdoor event tent is an easy way to make the outdoors a place to congregate during the winter season. And with an event tent, you will be protected from the elements (but not as much from the cold) and able to set up furniture or other furnishings for an event.
Granted, this option is not the prettiest, and we doubt that neighborhoods with HOAs will allow this all season long, but for a holiday event, it will allow guests to visit your patio. The cool thing is you don't have to move your grill as you can easily just open one side of the tent to allow the smoke to escape.
This option is perhaps the most affordable on the list, but it's so temporary that we don't suggest it if you're looking for something to last you until spring. In those cases, you will want something a bit more permanent.
Pros:
Inexpensive
Easy to put up
You can grill under it
Can seat a lot of people
Cons:
Very temporary
Likely not HOA approved
Doesn't provide insulation against the cold
Idea #4: Bubble Tent
If you like the idea of having a tent over your patio but aren't feeling the event tent, then you should check out a bubble tent. Bubble tents are clear, more insulating, and definitely more pleasing to the eye.
They're a bit pricier than the event tents, but still in the realm of affordability. They are weatherproof and well-insulated enough that you can even use one as a spare room when you've got lots of guests over!
With this insulation, of course, comes the fact that you cannot grill in the bubble tent. It is more of a place to hang out or spend time with family. Be careful how many people you invite, though, as the bubble tent isn't as easy to cram extra guests into, and you may find yourself a bit short on space if you try!
But overall, we do highly recommend a bubble tent if you want to make your patio into a comfortable place to hang out during the wintertime!
Pros:
Weatherproof
Insulated
Affordable
Easy to take down and put up with the seasons
Cons:
Smaller than other enclosure options
You can't grill inside
Users report it is challenging to set up without instructions
Related >> The Best Electric Patio Heaters
Idea #5: Use a Camping Gazebo
Using a pop-up camping gazebo to protect your patio in the winter months is a great way to repurpose something you likely already have on hand. While it won't provide a ton of weather protection, it will keep the snow off your nice patio furniture.
We like that you can grill from inside it, making winter grilling a much more pleasant experience. Just don't purchase this thinking you will be able to eat inside it, as it will likely be too cold.
This is another idea that can be used for both the winter and the summer or taken down and put up only when needed. While it will withstand some snow and is waterproof, we don't recommend it for those who live in regions with lots of heavy snow, as it will likely collapse.
Pros:
Inexpensive
Waterproof
Easy to set up
You can grill inside
Cons:
Not insulated
Not great in lots of snow
Related >> The Best Campfire Cooking Kits
Idea #6: Build A Wooden Roof
Surprisingly, building your own wooden roof for your patio isn't as expensive as you may think if you are good with a saw and hammer. You'll need to implement this idea before the winter sets in, however, as it is difficult to build in the snow.
Additionally, this is a more permanent solution, and many people choose to cement the ends of the wooden patio in the ground, therefore, this isn't the best solution for those who only want to enclose their patio for a season.
There are patio kits you can purchase to help you get a good start. The only problem is…these kits are not weather or waterproof. But we think you could take one of the kits and use it in combination with custom patio curtains or a tarp to make it somewhat winter friendly.
Regardless, this is not a recommended solution for those who live where there is lots of snow or rain during winter.
Pros:
Easy to build
Customizable
Mid-range price point
Cons:
More of a permanent solution
Won't work in locations with difficult winters
Idea #7: Custom Patio Curtains
If you already have something acting as a roof over your patio and simply need to insulate the sides, then this is the best option. These patio curtains are custom-made to the exact size of your patio, and they are clear, allowing you to have insulation without sacrificing the view.
You will have all the space you already had before, and you can still use your patio furniture for dining in the winter now too. These are easy to install and remove or roll away in the summer.
The downside is we doubt there will be enough air for you to grill inside these curtains, therefore, we recommend moving your grill out of the patio when you plan to use it. Otherwise, this is a great and affordable option for a winter patio enclosure.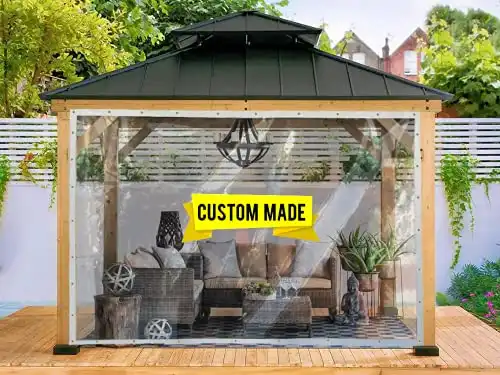 Pros:
Custom made
Extremely affordable
Weatherproof
Offers insulation
Easy to remove with the season
Cons:
You need to already have a patio covering to purchase these
Can't grill inside the enclosure
Tips For Purchasing a Patio Enclosure
Consider what you want to do during the winter before you buy. If you want to eat outdoors, then you will want a more enclosed option. If you just want something to keep the elements off you as you grill, go for something less insulated.
Measure your patio space before you buy to ensure you aren't buying something too big or too small (and check all dimensions before you order).
Consider the weather where you live and what an enclosure will need to be made of in order to withstand it.
If you truly want to spend time outside year-round, consider erecting a more permanent enclosure rather than always taking one down and putting it back up.
Final Thoughts on Temporary Patio Winter Enclosure Ideas
Overall, the best enclosure for your patio will depend on where you live and the unique needs of your family. Ensure you evaluate all of the options and their implications for your yard before you buy. No matter which option you pick, you will love enjoying your patio all year round, even during the winter season.