As the weather begins to cool down, you are likely preparing to move some of our outdoor items inside.
But can you leave your patio furniture out all winter? We've got the answers for you!
In this TheGrillingDad.com guide, you'll learn:
Whether or not you can leave your patio furniture out all winter
How to winterize your patio furniture
And much more!
Can I Leave My Patio Furniture Out All Winter?
When you've invested in some nice patio furniture, it may be your initial instinct to drag it indoors for the winter. But some of it is quite bulky, so do you have to?
Unless your patio furniture is properly winterized, there is a chance it could be damaged during the winter months if you leave it outside. How you need to winterize your furniture will depend on where you live and the material it is made out of.
Read on to learn more about winterizing your patio furniture so that yours won't get damaged this winter season.
Why Should You Winterize Patio Furniture?
While patio furniture is designed to take some abuse from the weather, most patio furniture materials are not designed to be left out all year long.
Water from rain and snow can wash away paint, as well as cause wood to expand when the temperature drops below freezing. Piles of snow landing on your patio furniture can also cause it to crack or break, depending on the amount of snow your area gets.
Even if you don't have to worry about too much snow, if you decide not to winterize your patio furniture, it is likely that it won't last as long as you had hoped. When the spring comes, you will find you have cracked, rusty, and maybe even moldy furniture on your hands. Thus it is just better to take the time to winterize your furniture.
Related >> Best Propane Patio Heaters
What Patio Furniture Needs Winterizing?
Of course, there are certain types of patio furniture that hold up better to the elements than others. If you are still in the shopping stage of finding patio furniture, it might be worthwhile to choose furniture which will do well in your climate.
Wood
Wood is a good patio furniture material that generally can be left outside all year round–as long as it is properly prepared. If you have wood patio furniture you made yourself, don't skip the sealant step, as this will prevent your wood furniture from retaining moisture and cracking.
If you purchased your wood furniture elsewhere, you might want to check on the type of sealant it's been sealed with and add a layer if you've had it for a while.
Wicker
Unfortunately, there is no way for wicker to survive wet and cold climates. You'll need to bring your wicker patio furniture inside for the winter unless it is resin wicker, which is designed to be left outdoors.
Steel
Many people are surprised to find out that steel patio furniture shouldn't be left outside all winter. Cold weather can cause steel to warp, and cracks may form. It is also more likely that the paint will chip off the steel when wet. Pull your steel patio furniture inside during the cold months for the best results.
Stone
Stone is becoming a more popular patio furniture material as many people are purchasing tables that have stone plates in them. While stone does withstand some elements, it is also prone to cracking from expanding water. Therefore while you can leave your stone patio furniture outside, be sure you buy a cover to keep it safe from liquids.
Glass
Glass patio furniture can be a beautiful addition to your backyard, but it is also a little bit of a pain. While glass can survive most weather, you have to be careful that nothing will fall on and break your glass patio table in the winter. It's best to leave glass patio furniture outside only in a covered area or bring it inside.
Fabrics
This may be a given, but all fabric patio furniture must be brought in for the winter. If you leave it out, it may begin to grow mold. Even if it doesn't grow mold, it won't smell nice when spring comes around.
Iron
Iron is another heavy patio furniture material that should be brought inside in the winter. While it may seem strong enough to withstand the weather (and it is) iron is prone to rust in wet conditions, which will quickly degrade your furniture.
Related >> Best Electric Patio Heaters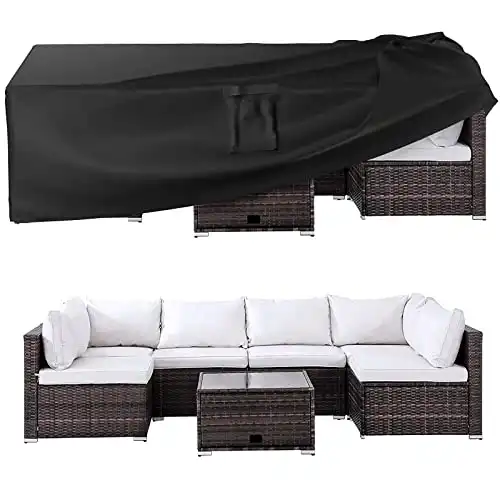 What Patio Furniture Can Be Left Outside in the Winter?
There are some types of patio furniture that you can leave outdoors all winter long, just be sure you properly tether your patio furniture down, so it doesn't blow away or cause damage to your home during a storm.
Aluminum
Aluminum patio furniture is fine to leave out all winter, just know that you should tether or tie down any lightweight pieces as this is the most likely patio furniture to blow away.
Wood
As mentioned above, wood patio furniture will survive the winter just fine as long as the wood is properly sealed.
How to Prepare Patio Furniture for Winter
How you need to go about winterizing your patio furniture will depend heavily on the type of furniture you have. Winterizing many types of patio furniture means bringing it indoors, but for materials that can withstand the wet and cold, you should do the following.
Seal It
If you have wood furniture, take the time to seal it before the weather begins to turn. This can help keep moisture from getting into the furniture.
While sealing furniture usually applies to wood furniture, there are some other types of furniture, like wicker, that can also be sealed.
Related >> How To Secure Outdoor Furniture
Cover It
If you are planning to keep your furniture outside all year long, we hope you have a covered patio. If not, you should invest in one to keep your furniture safe from large amounts of rain and snow.
It is also a good idea to invest in covers for individual pieces of furniture like your grill or a stone patio table/fire pit that can't be moved due to weight.
Keep an Eye on It
You should regularly check up on your patio furniture that is left outside all winter. Clear snow off of tables or chairs, and don't allow any furniture to sit in a snow drift for too long. You should also check that no animals have made homes in your patio furniture or grill for the winter.
Remember, if you are ever in doubt about whether or not you should leave your patio furniture out, it is a good idea to just bring it inside, especially if you have the room!
Related >> Temporary Patio Enclosure Ideas for Winter
Final Thoughts on Leaving Patio Furniture Out in the Winter
Overall, whether or not you can leave your patio furniture out all winter will depend on what it is made out of and the climate where you live. If you live somewhere with harsh winters, it is always better to just bring it in rather than leave it outside.
If you do decide to leave your patio furniture outside, follow the proper winterizing procedures to ensure you have patio furniture to enjoy in the spring!