Are you looking for an easy-to-follow recipe for smoked Boston butt?
You're in the right place!
In this TheGrillingDad.com guide, you'll learn:
Ingredients you need for smoked Boston butt
Ingredients for an apricot glaze
Step by step guide to smoked Boston butt
And much more!
What is a Boston Butt?
A Boston butt is a pork butt or shoulder roast.
Boston butt is named after the barrels pork used to be stored in. Those barrels were called butts. And because they were considered a New England specialty, they got the name Boston butt.
For this recipe, you'll want a 10-pound Boston butt roast, draining any liquid from the package down the sink when you open it.
Read More >> 321 Ribs Recipe
How to Buy Pork Butt
Pork butt is a large cut of meat which can sometimes weight up to 20 pounds. You'll want to head to a butcher if you want less than 20lbs of meat. Honestly, we recommend heading to your butcher regardless as they will have much better cuts than the grocery store shelf.
For best results, you'll want to get the full pork butt with the bone in, as this actually makes it easier to cook.
How Much Pork Do You Need?
As you are buying your pork butt, you'll want to plan a pound and a half per person. You should also note that pork experiences significant shrinkage as it cooks, and if you get a bone in pork butt, this will raise the weight of the pork butt without adding extra meat.
Therefore if you are cooking for 4, we recommend getting at least an 8-10lb pork butt. If you are cooking for more than that, then it's probably better to get a larger pork butt and plan for leftovers.
Ingredients for Smoked Boston Butt
10 lb. Boston butt
2 oz yellow mustard
4 oz your favorite meat rub
8 oz red wine vinegar
8 oz water
Apricot BBQ Glaze:
12 oz BBQ sauce
4 oz apricot preserves
4 oz honey
4 oz apple cider vinegar
Read More >> How To Smoke Sausage
How to Smoke a Boston Butt
1. Dry and Season
Once you've drained the package of liquid, pat the Boston butt dry with a paper towel.
Now you'll liberally apply your seasonings to the roast. Start by coating the roast in the mustard to help the seasoning stick.
Once it's coated, let it hang out while the smoker heats up.
Read Also >> How Long Does Bacon Last in the Fridge?
2. Fire Up the Smoker
Your smoker should run around 225 degrees for the entire cooking time.
You can use whatever smoker or grill you have on hand, as well as whatever wood you prefer. It will turn out great either way!
Once the grill is preheated, put the Boston butt on the center of the rack and close the lid.
The bark of the roast can get dry during this process, so you'll want to spray it down with equal parts red wine vinegar and water every hour to prevent this from happening.
When the bark is developed and it turns a nice shade of red, you can wrap the roast.
3. Spritz and Wrap
You'll be using 2-3 layers of foil to ensure the meat is properly covered.
Before sealing the foil, cover the roast with a little more of your favorite meat rub and spritz it down with some of the baste.
Wrap it completely, sealing it tight and get it back to the smoker for a while.
A good internal temperature is 198 degrees, making it tender enough to pull apart.
This may take around 2 hours depending on the Boston butt.
Read Also >> How Long Do Ribs Last in the Fridge?
4. Make the Glaze
While the roast is cooking, make the glaze.
To do so, just combine all of the ingredients in a pot over medium heat, stirring until it's smooth. This will take around 5-10 minutes.
5. Glaze and Smoke
Once it reaches 198 degrees, remove it from the smoker and transfer it to a large sheet of foil, coating the entire roast in the glaze.
Put it back on the smoker for 15 minutes so the glaze can caramelize around the roast.
Don't go too far! It is easy to burn at this point in the cooking process.
6. Rest and Indulge
Once it's done, let it rest for 20 minutes before pulling it apart or cutting to serve.
You'll get around 7 lbs. of good pulled pork with a roast this size!
Pair it with your favorite BBQ sides and your meal is ready to go!
Read More >> How To Make Homemade Bacon
Tips for Smoking Pork Butt
Trim the fat, but not all of it as this will add flavor to the meat as it cooks.
Ensure you season your meat, but don't get too caught up on brines or marinades because you will be making an Apricot BBQ glaze to pour over your meat.
Don't rush your pork butt, remember that the trick is low and slow. If you try to turn up the heat, your pork will get tough.
Use a thermometer to know when your pork butt is done. Don't try to guess or leave it up to chance because you could end up eating undercooked pork which is dangerous from a health standpoint.
Always let your pork butt rest before you pull it apart. This will allow the juices to soak back into the meat leaving you with the best Boston butt possible.
How Long Does it Take to Smoke a Pork Butt at 225°F?
It will take approximately 2-10 hours for a pork butt to reach an internal temperature of 195°F-203°F when cooked at 225°F. The exact time will depend on the weight of your pork butt.
What Wood To Use for Smoking Pork Butt
When you are making a Boston butt on your smoker or pellet grill, you'll want to use a hickory wood for best results. Of course you can also use fruit woods, which go well with pork in general, but we find the medium woods are better for the pork butt.
Related >> Understanding the Differences Between Shoulder and Chuck Roast
How to Store Pork Butt
If you are planning to have some leftover pork butt, then you should definitely have a way to store it on hand and ready to go! For best results, we recommend keeping everything you can eat within a day or two in the fridge and freezing the rest.
Place the leftover pulled pork in a glass or plastic container, sealing it so it is air tight. If your pork wasn't shredded yet, pre-shred it before storing.
For pork being placed in the freezer, a ziploc bag works best. Remove all excess air from the bag before sealing in your pork. Place your pork as far back in the freezer and fridge as possible, so that it will stay good for as long as possible.
How to Use Leftover Pork Butt
You should never be scare of having leftover pork butt, as there are so many uses for this tasty meat. Below we have listed some of our favorite uses for leftover Boston butt.
Sandwiches
Tacos
Pulled Pork Stew
Pulled Pork Bowls (with rice and broccoli)
Nachos
Pulled Pork Grilled Cheese
Mac n Cheese Topping
How to Reheat Pork Butt
The best way to reheat Boston butt is by adding a little water to an oven-safe pan and placing the pork on top. Set the oven to 275°F and place the pork in the oven for about 1 hour.
Editor's Note: You can also stick your leftover pulled pork back in the smoker! Just ensure you use a smoker safe pan and follow the same method listed above!
Of course it won't be as tasty as the first go round, but it will still be delicious, especially if you plan to use the leftovers to top tacos or make a pork bowl.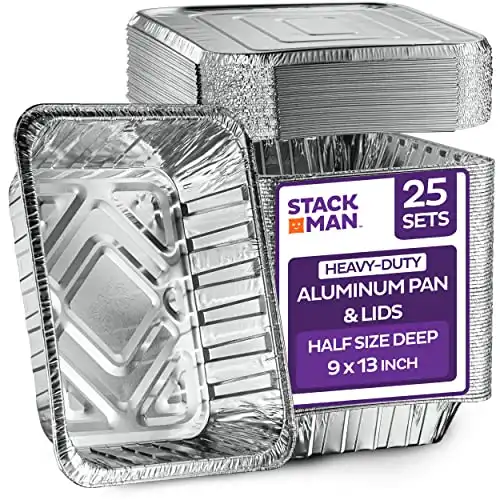 How to Cook Pork Butt in the Oven
While it is always best to smoke your Boston butt in your smoker or pellet grill, if you are experiencing issues you can also make it in your oven.
You'll want to start by setting your oven to 300°F and cooking the meat for about 45 minutes per pound.
Just note that you won't have any smoky flavor when cooking Boston butt using this method.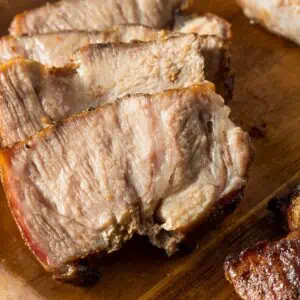 Smoked Boston Butt (Pork Butt)
Delicious sliced pork butt served with a homemade apricot glaze!
Ingredients
10

lb.

Boston butt

2

oz

yellow mustard

4

oz

your favorite meat rub

8

oz

red wine vinegar

8

oz

water

12

oz

BBQ sauce

4

oz

apricot preserves

4

oz

honey

4

oz

apple cider vinegar
Instructions
Pat your pork butt dry with a paper towel and coat it in yellow mustard.

Apply your seasonings to the pork butt

Preheat your smoker to 225°F.

Apply a second coat of seasoning to your Boston butt.

Spritz the pork butt with baste and wrap in foil.

Place the pork butt in the smoker and set the timer for 2 hours.

In the meantime, combine the BBQ sauce, apricot preserves, honey, and apple cider vinegar in a pot on the stove and stir until smooth.

Check your pork butt after 2 hours. You'll want to cook it until it reaches 198°F.

Once it reaches this temperature, cover it with glaze and return it to the smoker.

Set the timer for 15 minutes, then remove the pork butt from the smoker.

Allow the Boston butt to rest for at least 20 minutes before slicing and serving it.
If you want to learn more about grilling, check out these other helpful resources!