I recently had the chance to try out the Grill Armor Gloves, and I must say, I was impressed. As someone who has been grilling for nearly 2 decades, I've tried out many different gloves over the years, but these really stood out to me.
Long story short, I highly recommend these. But I'll go into detail in this review so you can determine if they fit like a glove for you too. 😉
And if you do decide to grab a pair, use this code to save 10%: GRILLINGDAD10
My Grill Armor Gloves Review
As someone who loves to grill and cook, I am always on the lookout for products that can make my life easier and safer. That's why I decided to give the Grill Armor Gloves a try.
First of all, the gloves are incredibly comfortable. They fit snugly but not too tight, and the material is soft and flexible, allowing me to easily handle tongs, spatulas, and other grilling tools.
But the real test, of course, is how well they protect your hands from the heat. And I have to say, the Grill Armor Gloves passed with flying colors.
Whether I was flipping burgers, moving hot coals around, or grabbing a cast iron skillet fresh out of the oven, these gloves kept my hands completely safe and cool. And unlike some other gloves I've tried, they didn't feel bulky or cumbersome, allowing me to maintain full dexterity and control while grilling.
Simply put, I would highly recommend the Grill Armor Gloves to any serious griller or home cook looking for a reliable and comfortable pair of gloves to keep their hands protected.
Pros of Grill Armor Gloves
Heat-resistant
Easy to grab your BBQ tools with them
Can wash them in the washing machine
No more burning the top of your hand when trying to flip that burger in the back
These gloves are incredibly heat-resistant. They claim that they can withstand temperatures up to 932°F, and I have to say, they held up pretty well in my tests. I was able to handle hot grates, pans, and even coals without feeling any discomfort or heat transfer.
Note: While testing these, I didn't have my grill hotter than 700°F. I was using my Masterbuilt Gravity 560 and a few of my favorite pellet smokers for these tests.
Another great feature of these gloves is their dexterity. Unlike some other heat-resistant gloves I've tried, the Grill Armor Gloves allow me to grip and manipulate small objects with ease. I could even use my phone and grill thermometer without having to take them off.
The gloves are also machine washable, which makes cleaning them a breeze. And they come with a handy hook for hanging them up until the next use. Both are nice-to-have features.
Best Grill Gloves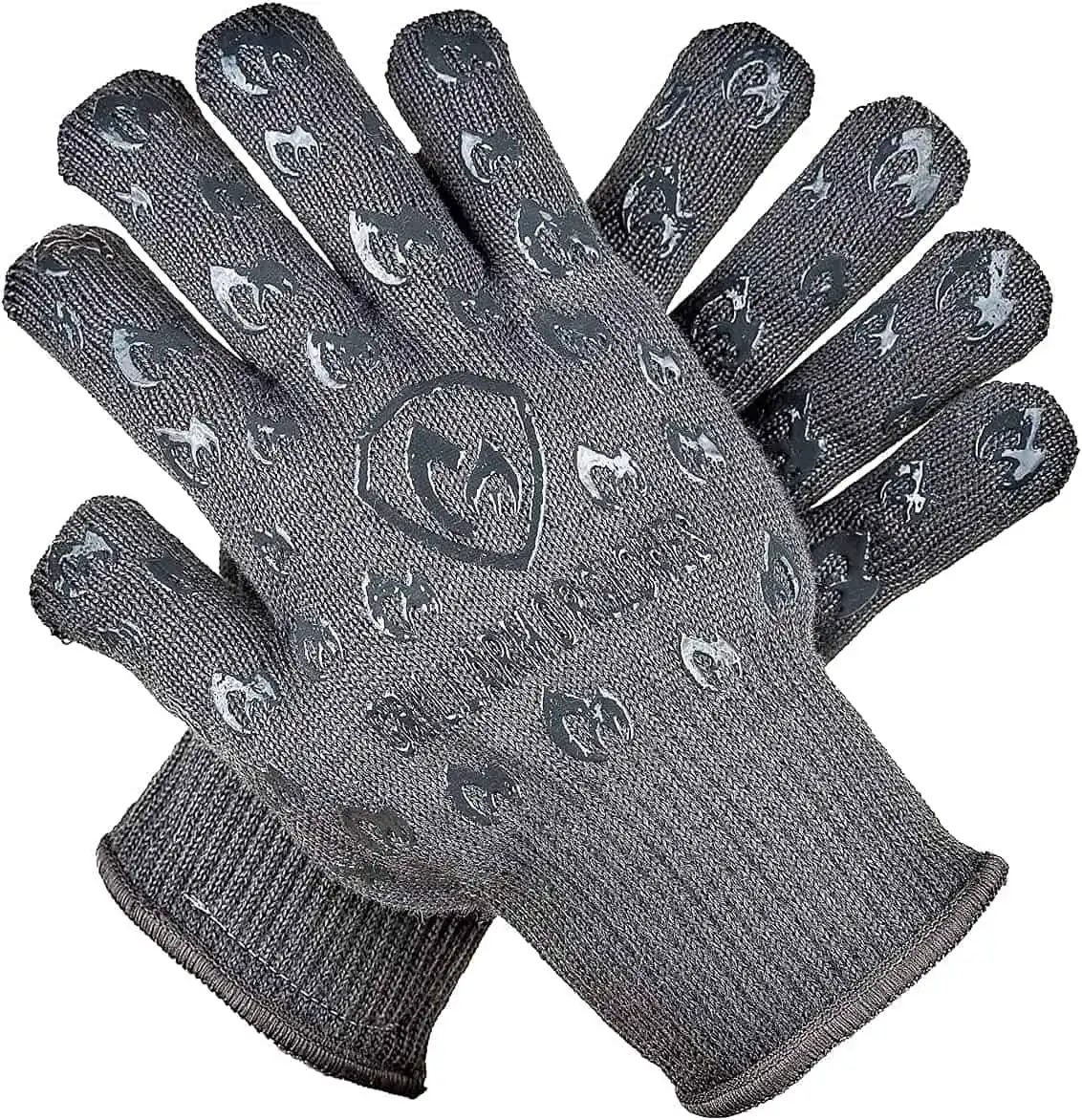 Cons of Grill Armor Gloves
They're not as thin as nitrile gloves
Can lose some grippiness when wet (if that's not a word, it should be)
Only one size to choose from
While I love these gloves, there are a few downsides to keep in mind. First, they are a bit bulky, which can make it difficult to maneuver larger items. And while they do provide good grip, I have noticed that they can be a bit slippery when wet.
They do offer waterproof gloves if you plan on using these inside instead of around your grill, though.
Additionally, the gloves only come in one size, which may not fit everyone's hands comfortably. Because of that, they may still feel a bit snug or loose depending on your hand size.
I did have my kids try these on and they could still grip their tablets and help carry trays of food in while wearing them. So even if you've got small hands, they should be fine. And if they're not, you can return them.
Here's what their site says about returns:
"During the first 30 days, you can return your gloves for a full refund, no questions asked.

You will also be eligible for a lifetime replacement guarantee in which The Grill Armor Gloves branded products are warranted to the original owner against manufacturing defects in materials and workmanship for the lifetime of the product provided you have purchased the full amount of the gloves or at least 80% of its price."
Features of Grill Armor Gloves
Heat resistant
Comfortable to wear
Easy to clean
Heat Resistance
When it comes to grill gloves, the most important feature is heat resistance. Grill Armor Gloves are made of M-Aramid and P-Aramid, also known as Nomex and Kevlar. These materials can withstand temperatures up to 932°F (500°C), making them perfect for grilling or baking.
Note: The gloves also have a long cuff that protects your wrists and forearms from heat and burns.
Comfortable Fit
Grill Armor Gloves are designed to fit most hand sizes comfortably. The gloves have a flexible and breathable design that allows you to move your fingers and grip objects easily.
The inside layer is made of a cooling 100% cotton blend that keeps your hands dry and comfortable. The gloves also have a non-slip silicone grip that helps you hold onto hot and slippery objects.
Easy to Clean
Cleaning grill gloves can be a hassle, but Grill Armor Gloves are machine washable, so you can just toss them into the washing machine.
The gloves can also be air-dried or tumble-dried on low heat. This feature makes them easy to maintain and keeps them looking and smelling fresh.
Types of Grill Armor Gloves
Grill Armor Gloves offers four types of gloves:
Standard grilling gloves
Oven mitts
Waterproof oven gloves
Welding gloves
Standard
The standard grilling gloves are perfect for grilling, baking, and handling hot objects in the kitchen.
Oven Mitts
The oven mitts are designed to protect your hands and arms from the heat of the oven. They could work on the grill, but they're not as form-fitting as their standard grill gloves.
Waterproof
The waterproof oven gloves are perfect for handling wet and greasy objects. These are great for big pots of water if you cook for a crowd in the kitchen.
Welding
The welding gloves are designed for professional welders and can withstand extreme heat and flames.
Even though I'm not a welder, I got a pair of these too. We have a lot of campfires and campfire cooking kits can get hot. These handled those easily and I was even able to reach into the fire pit and move logs around — sure beats trying to use a stick to move a log.
While they're stiffer and something I'll save for campfires instead of around the grill, they're great quality.
Why You Need Grill Armor Gloves
Burn protection
Better grip on your grill trays and tools
Indoor and outdoor use
Protection from Burns
I don't know about you, but I've burned my hands more times than I can count while grilling. It's not a fun experience, and it can ruin the whole cookout.
These gloves are heat-resistant up to 932ºF, so you don't have to worry about getting burned when you're flipping burgers or moving hot coals around. Plus, they're made with a double layer of heat-resistant fibers, so you know you're getting the best protection possible.
Better Grip on Grilling Tools
Another reason why I love these Grill Armor gloves is that they give me a better grip on my grilling tools. The gloves have a silicone texture on the fingers and palms, which provides additional grip.
This means you can firmly handle food as needed, without worrying about dropping anything. Plus, the gloves are thick enough to give you some cushioning, but not so thick that you can't feel what you're doing. You can still click your tongs (twice before using, of course) and turn knobs and dials on your grill.
Not that your phone is a grilling tool, but you can also still use your phone with these, which can come in handy if you're near the end of a cook and looking up the internal temp of burgers, as an example.
Other Benefits
These gloves are versatile. You can use them for cooking, grilling, smoking, baking, camping, and even welding. It's like a 6 in 1 shampoo, but grill gloves.
Final Thoughts
After using the Grill Armor gloves for several grilling sessions, I can confidently say that they are a great investment for any BBQ enthusiast.
The gloves are comfortable to wear and provide excellent heat resistance, making it easy to handle hot grill grates, pans, and other items. But if you're not sure they're right for you, check out our top picks for the best grilling gloves.