I recently got my hands on the Vevor meat slicer and have been slicing and dicing so I can give you the best review possible.
While I was very impressed with its performance, I do think I'd be happier opting for their 10″ model. But let's dig into the details.
My Experience With the Vevor 7.5″ Commercial Meat Slicer
Since I've got a big family (it's my wife, our 7 kids, and myself), I like to smoke and prepare a lot of meats to make meal prepping easier (and save some money 🤑). The 7.5″ meat slicer from Vevor has made that experience even easier.
I decided to smoke a tri-tip and start slicing it up. Some of the features I found to be more useful than others, so let's dig into those.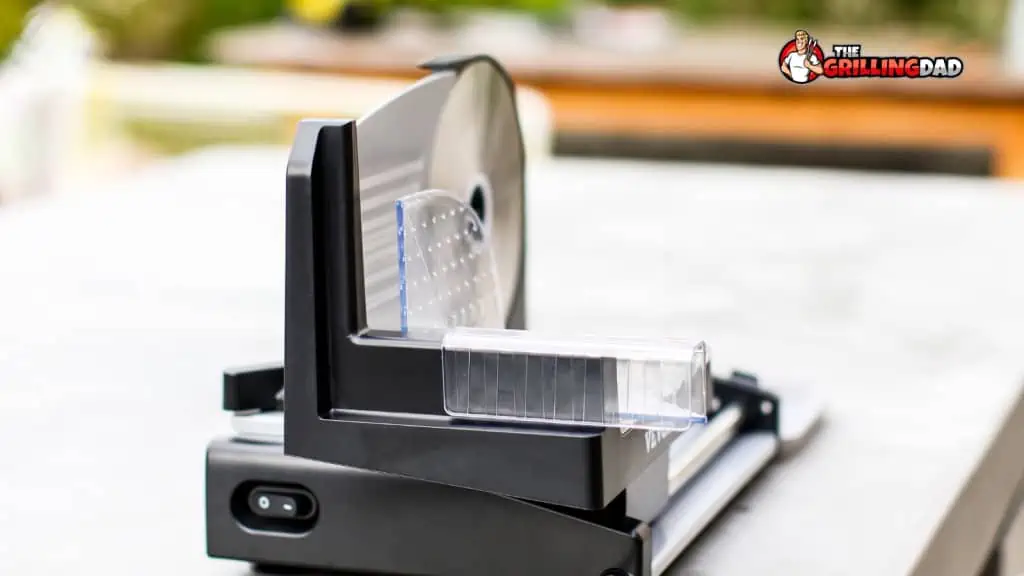 Features
200W powerful motor: This slicer is equipped with a 200W electric motor, which provides enough power to cut through meat, veggie, and bread effortlessly.
7.5-inch blade: The slicer comes with a 7.5-inch blade that is perfect for slicing various types of food items – but with how often I plan to use this, I do wish I would've gone with the 10″ model to make bigger cuts even easier to slice.
Adjustable thickness control: With its adjustable thickness control, I can easily achieve my desired slicing thickness from paper-thin to 0.6 inches. I love thick slices while my wife and kids prefer thin slices — now we both get what we want.
Sturdy construction: The slicer is made with a strong aluminum alloy base, which makes it durable and stable during operation. It feels like it'll last a lifetime, which always makes you feel good after a purchase like this.
Safety features: The slicer also has a blade safety guard and non-slip feet to ensure user safety during use.
Specifications
If you're a nerd for the details or just want to make sure it fits, here are the specifications of the Vevor 7.5″ Commercial Meat Slicer:
Model: 7.5″ Commercial Meat Slicer
Motor Power: 200W
Blade Diameter: 7.5 inches
Slicing Thickness: 0-15mm (0-0.6 inches)
Material: Aluminum alloy base and premium chromium-plated steel blade
Dimension: 14.6 x 9.4 x 11.8 inches
Weight: 26.5 lbs
Vevor's Performance and Build Quality
Slicing Capabilities
I found the Vevor 7.5″ Commercial Meat Slicer to have quite impressive slicing capabilities. I started with smoked tri-tip and then moved to my wife's homemade bread, and some veggies to try a little bit of everything.
It sliced through everything with ease. My wife and I took turns using it; it's satisfying to use.
The adjustable thickness control made it simple to create ultra-thin slices or thicker cuts, depending on my needs. However, I can't help but feel that the larger 10″ model would have provided an even better slicing experience, especially for larger or bulkier items like roasts and pork butts.
Related >> How To Slice a Brisket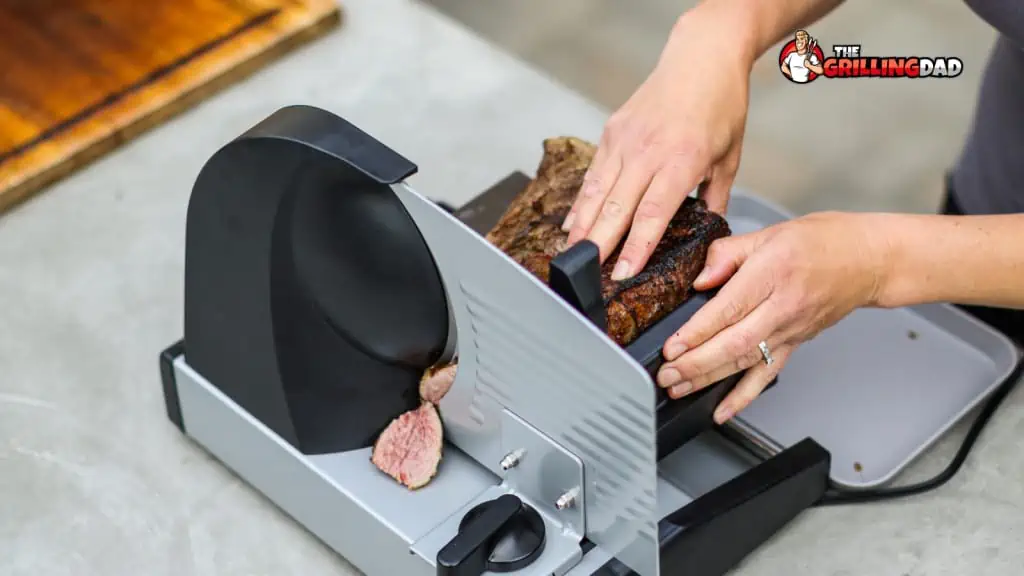 Construction Materials
I mentioned the build was impressive, but it's not bulletproof. The Vevor 7.5″ Commercial Meat Slicer is a mix of materials used for its construction.
The metal parts, such as the blade, felt sturdy and high quality. Some components, however, like the food carriage and thickness control, were made out of plastic.
While the plastic parts didn't seem to impact the functionality of the slicer, I couldn't ignore the feeling that this might limit its overall durability and potentially affect long-term reliability.
Again, I've had no issues so far, but I've only had it for about a month — no issue to report (I will keep this updated if that ever changes). I just wish all of the parts were metal. 🤷‍♂️
Related >> Best Knives for Cutting Bone
To give you a clearer idea of the materials, here are some key components and their corresponding construction materials:
Blade: Metal (stainless steel)
Food Carriage: Plastic
Thickness Control: Plastic
Base: Metal
Cleaning and Maintenance
One thing I was worried about before unboxing or ever using a meat slicer was keeping it clean and sanitary. But the Vevor made it really easy.
Cleaning Process
Cleaning my Vevor is quite easy.
Unplug it and double-check that it's turned off.
Carefully remove the blade guard.
Use the included allen wrenches to remove the blade.
Clean all the parts separately with soap, water, and a non-abrasive cloth.
Dry and reassemble the slicer before using it again.
Sharpener Care
It's essential to keep the sharpener in good condition, as it helps maintain the slicer's blade sharpness. I've checked it quite a bit and so far, no wear or tear to report. It feels very sturdy.
To clean the sharpener, I gently use a soft brush and warm, soapy water, then rinse and dry it thoroughly.
Slicing Tray Care
I always clean the slicing tray after every use. I take it off and wash it with warm, soapy water, then I rinse it with hot water and dry it using a clean towel before reattaching it to the slicer.
Related >> Best Knives for Cutting Raw Meat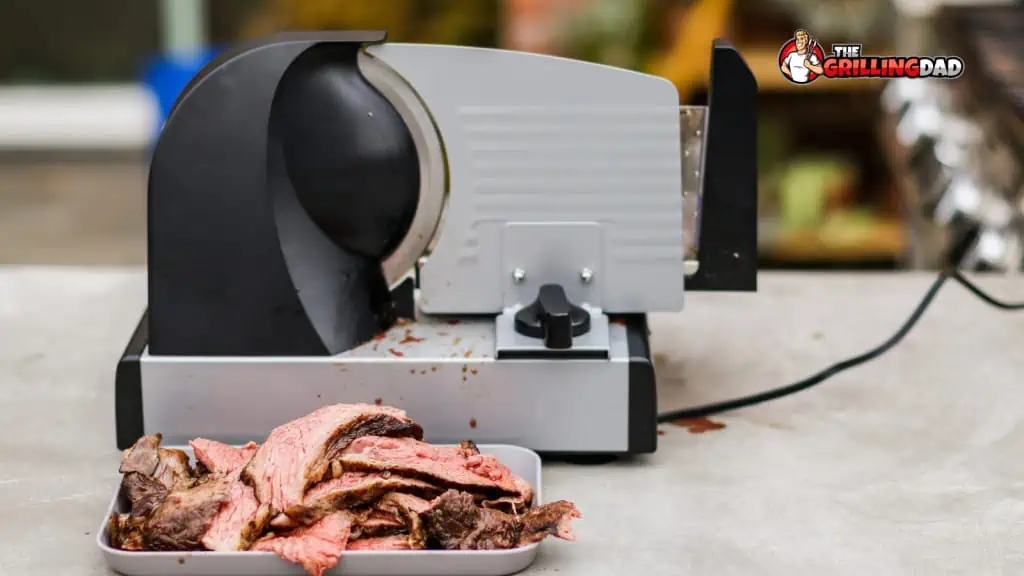 Final Thoughts on the Vevor 7.5″ Commercial Meat Slicer
I try a lot of products and it seems about half of them are made with materials that feel cheap and unreliable. It was a breath of fresh air unboxing this meat slicer.
The build quality is great, the performance is great, and it's really easy to take care of. When using it, it definitely sounds like a machine running but it isn't deafening. And though I've mentioned it a few times, I do think I'll eventually upgrade to the 10″ model since I cook so many large cuts of meat for my family.
If you've got any questions about it, let me know! And if you want a meat slicer but aren't sure this is the one for you, check our rankings of the best meat slicers.