Are you looking for a grill brush to clean your stainless steel grill grates without damaging them?
You're in the right place!
In this TheGrillingDad.com guide, you'll learn:
What to look for before buying your grill brush
What to avoid
Our top 5 grill brushes for stainless steel grates
And much more!
Top 5 Grill Brushes for Stainless Steel Grates
In a hurry? Check out our top 5 grill brushes for stainless steel grates! Keep reading to discover more about our top picks.
Grill Rescue Grill Brush (Our Top Pick)
Char-Broil 360 Grill Brush (Best Budget)
Grillbot Automatic Grill Cleaning Robot (Best High End)
What Makes A Grill Brush For Stainless Steel Grates Different?
The primary difference between grill brushes for stainless steel grates is the bristle material.
Common bristle material includes stainless steel, brass, and nylon. Each material varies in softness, and there are pros and cons to each type.
Stainless steel may be the best material for brush bristles to clean stainless-steel grates.
However, the irresponsible use of stainless-steel grill brushes may create obvious scratches on your stainless-steel grates because they are the same material.
Brass and nylon are softer materials for brushes. The soft quality prevents scratches on the stainless-steel grates.
However, softer bristles may not be as strong as stainless steel when cleaning grates, which may make cleaning a tad tougher.
Related >> How Long Should a Grill Brush Last?
What Do You Look For In A Grill Brush For Stainless Steel Grates?
The best grill brush for stainless steel grates should include a long handle to protect you against heat while cleaning.
You want a hot grill when you clean to cook off any food debris, making the grates easier to brush.
For the brush itself, consider getting a heavy-duty tool with firm bristles to avoid breakage. A 2019 case study highlighted medical literature stating that new injuries have developed due to the ingestion of grill brush wire bristles. Most injuries revolved around abdominal pain.
To further minimize chances of ingesting wire bristles, consider looking for a grill brush with large bristles.
Nylon bristles may also prove to be a safer alternative to metal or stainless-steel brushes. However, the nylon material risks melting if exposed to grills hotter than 250ºF.
Top 5 Best Grill Brushes for Stainless Steel Grates Reviewed
Pick #1: Grill Rescue Grill Brush
Our top pick for grill brushes has no metal parts, making it the safest option on this list.
The Grill Rescue BBQ Replaceable Scraper uses steam to remove grime.
As such, you can rest assured that no wire bristles will get on your food the next time you use your grill after cleaning with this tool.
This was designed by firefighters and uses material that can withstand high heat. A portion of all proceeds even go to firefighters.
It works in an easy 1-2-3 manner.
1 – Heat Your Grill To At Least 400ºF
2 – Dip The Brush In Water
3 – Steam Clean Your Grill
I have used mine on several grills, including my flat top griddle. It's the real deal! You can even wash the cleaning head in the dishwasher to keep it clean and last longer.
Pros
Actually gets your grill clean
Uses steam; no bristles
Washable and replaceable cleaning head
Portion of proceeds go to first responders
Cons
It's got a high price point for a grill brush
Pick #2: Char-Broil 360 Grill Brush
This cost-efficient brush utilizes thick and durable nylon bristles.
The bristles come in a bright red color, making them obvious enough to notice should they begin falling out after a year of use.
This visibility also serves as a safety concern for anyone avoiding traditional wire bristles.
Although its color serves as a safety precaution, brand laboratory tests reveal factors that support its heavy-duty factor. Results state that this brush can withstand over 15,000 cycles without obvious breakage.
The nylon bristles make this tool ideal for cleaning cast-iron grates and even porcelain and chrome wire grids.
With it's 360 degree design, it can clean the top of the stainless steel grates while also getting in between and in those hard to reach corners.
Despite its versatility, remember that nylon is still nylon, so it is best to use this brush once your grill is cool.
Pros
Durable and heavy-duty nylon
Under $20
Easy to clean the brush
Cons
Nylon is a great choice for stainless steel grates, but you do have to wait until your grill is cooled down before using it
Pick #3: Grillbot Automatic Grill Cleaner
Our pick for the best high-end cleaning tool is this motorized grill cleaner.
The Grillbot is like a Roomba for your grill, which you can leave to automatically clean a hot or cold barbeque while you go about your weekend.
This device utilizes three nylon brushes to clean grime and debris in most grills. You may need to manually scrape stubborn stains in grill corners or undersides, though.
The nylon brushes are dishwasher safe, making them easy to clean.
The machine itself is also user-friendly, allowing you to simply set a timer to clean your grill. Be sure to close the grill's lid while the Grillbot cleans your barbeque.
You can also opt to buy additional cleaner heads made of brass, which also work well with stainless steel grates.
Pros
Motorized grill brush; like a Roomba for your grill
Cleans your grill at the push of a button
Nylon or brass bristles; great for stainless steel grates
Cons
Your grill has to have a lid for this not to fall off
It's priced over $100, so it's much higher than manual options
Pick #4: Grillaholics Nylon Grill Brush
This heavy-duty brush utilizes three separate nylon brushes in one convenient tool, offering a 360° grill cleaning experience.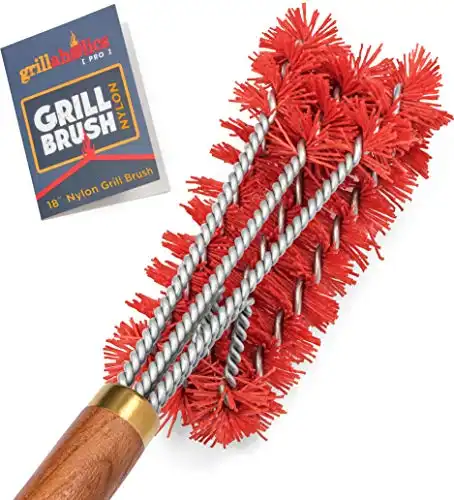 The combined brushes come in a strategic angle to minimize effort while cleaning stubborn grime around the grill bars.
Although this tool has no built-in scraper, its nylon bristles remain strong enough to cut through most tough stains.
Despite being strong enough to scrub off most stains, the nylon bristles are still soft enough to leave no scratches on your stainless steel grates or surfaces.
This brush offers a safe and stylish cleaning experience. This product's safety owes to its only metal part being the ferrule connecting the nylon bristles to a sleek, wooden handle.
Pros
Three brushes in 1
Nylon bristles; no dangerous metal
Heavy-duty wooden handle
Cons
The weak point is where the metal that holds the nylon bristles and the wood connects. Not an issue for me yet, but it's worth noting.
Pick #5: Grillart Stainless Steel Grill Brush
Our final pick for the best grill brush for stainless steel grates has no bristles at all.
Without wire or nylon bristles, this product removes any risk of metal parts getting into food and any nylon parts melting due to hot grills.
This brush utilizes coiled stainless-steel mesh instead of bristles, ensuring no parts fall off. The mesh is tough enough to scrape stubborn residue without scratching stainless steel grates.
It also works for other types of grills, cleaning porcelain, charcoal, or infrared grills efficiently.
This two-in-one tool includes a wide scraper, ideal for deep and quick cleaning. The scraper's size increases cleaning covering, saving you time when cleaning your grill.
Pros
Heavy-duty brush and strong scraper
No metal or nylon bristles at all
No risk of getting bristles in food
Cons
Coils may not reach all around the grill grates as well as traditional bristle brushes
Final Thoughts On Cleaning Your Stainless Steel Grates
Our favorite grill brush for stainless steel grates is the Grill Rescue BBQ Replaceable Scraper Cleaning Head. We considered the product's overall value. Although it's a bit pricey, it is ranked as the best overall grill brush for any grill.
It will truly get your grill clean using steam. I'm impressed every time I use mine!
Meanwhile, the Char-Broil SAFER Replaceable Head Nylon Bristle Grill Brush is a good option, especially if you're on a budget.
This brush is the most cost-effective option, listing at under $20 on Amazon. This item utilizes nylon bristles instead of traditional stainless steel, minimizing health risks.
We also consider the Grillbot Automatic Grill Cleaning Robot for effortless cleaning.
This motorized device cleans surface-level grime and debris well enough to save time while hosting a barbeque.
Knowing your grill is going to be cleaned while you're cleaning up the BBQ is priceless. The only reason it's not #1 overall is because the Grill Rescue can also clean my flat top grill.
Before You Go…
If you're getting a new grill brush, you should know it's critical to keep that clean as well. Here's a post on how to clean your grill brush.
If you want to learn more about grilling, check out these other helpful resources!