For those of us who love firing up the grill well past sunset, finding ways to brighten up the cooking surface is a must. Shadowy conditions make it hard to tend to sizzling steaks or check the doneness of chicken properly, but the best grill lights provide a simple solution.
I decided to put the Cave Tools Barbecue Grill Light to the test during my late night barbecue sessions to see if it could sufficiently illuminate the space for safer, easier grilling in the dark.
Cave Tools Barbecue Grill Light Review
A grill light is a key tool for every BBQ lover. Gone are the days when grilling after dark should be a struggle. I got my hands on the Cave Tools Barbecue Grill Light and spent time testing and cooking with it. Here's what I discovered about the Cave Tools Light's performance, durability, and value.
Features and Benefits
In general, this is a pretty good grill light from Cave Tools. There are some things I'd like to see improved on it, which I'll share later in the article. Here are the key features and benefits of this light:
Lights Up the Entire BBQ
If brightness is a big deal to you, you'll like this BBQ light. I've tested several lights for the smoker grill, and this one has the brightest settings (100+ lumens). The bright LED casts a wide net surrounding the grill, eliminating shadows or dark spots.
It makes cooking safer and more manageable after dark. It ended my struggle with flashlights and poorly-cooked meat.
Tight-Fitting Handle Clamp
The handle clamp is designed to be compatible with rectangular and circular grill handles, making it more versatile than others. It has a claw shape that you slide on the handle and a sizable screw to tighten the clamp. You can also mount this to other parts of the grill if you don't want it on the handle, which is nice.
Water and Heat Resistant
The BBQ light is water and heat-resistant. This is essential because it stays on a hot surface while grilling. That said, it's good to know that this product can withstand high temperatures without melting, or if it gets a little wet, it won't start malfunctioning.
Rotates in Any Direction
You can turn the flashlight head in any direction. 360° rotation eliminates darkness around the grill and my general cooking area. Even though the light from this spans my entire grill, I like the option of rotating the light without needing to readjust where the tool is positioned on my BBQ.
Product Update
This is the first time I've used the Cave Tools Barbecue Light; however, in doing some research, I found out that the brand made some improvements to this model.
Before, the clamp mechanism was weak and snapped in half when users tightened it around the grill handle. I'm not surprised to hear that, since I think the build quality feels a little cheap, even on my newer version.
The brand has improved the clamp mechanism, and I haven't experienced any issues with it starting to break yet.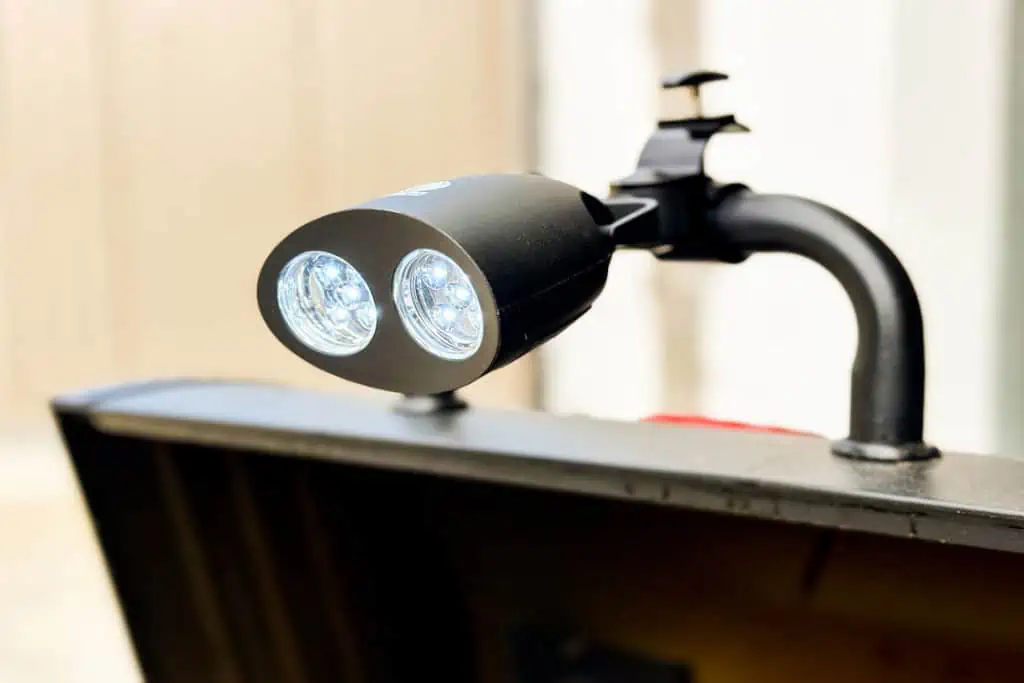 User Experience
When choosing my go-to BBQ light, I don't only consider how bright it is. I want something durable, easy to use, and that can withstand the basic cooking elements while using it outside.
When I pulled it out of the box, the overall design of it was nice. In holding it, though, it didn't feel that well-built. It feels a little cheap, and I wouldn't be surprised if it broke over time.
The batteries were hard to install, and a standard screwdriver wouldn't open the battery compartment. Luckily, this comes with a tiny screwdriver. If I ever lose this, though, taking batteries in and out will be hard.
It's extremely easy to turn the light on and off – almost too easy. The on/off switch is a touch button, and I found myself accidentally turning the light on and off while using it. My hands and arms would gently brush the button, causing the light to go on and off. This became a bit annoying.
I typically store my BBQ tools in a kitchen drawer. I had to be careful when putting this light away so it wouldn't accidentally turn on and drain the battery.
As I mentioned earlier, I like how bright this tool gets. It's the brightest I've tested, leaving no shadow around the grill. It can also be mounted to various parts of the BBQ, making it more versatile than others.
Benefits and Drawbacks
The Cave Tools BBQ light remains my top choice for several reasons. In my opinion, these are the perks:
Tight-fitting clamp and produces consistent lighting
Bright LED bulbs that cast a wide net of light over the entire grill
Includes a small screwdriver to help you change the batteries
Rotates in any direction
While there are several pros, there are some features that could be improved:
Batteries are hard to change – they're encased in a spot that's difficult to reach
Need to readjust the mounting bracket on the grill each time you open and close the grill
Build quality is a little weak and could be stronger
Comparing the Cave Tools Barbecue Grill Light
When I started using grill lights, I set out to find the top options. So far, I've tried four other BBQ lights along with this one, and here's how Cave Tools compares:
Cave Tools vs. Weber and Chef Buddy
Among these three brands, Cave Tools BBQ light was the brightest. It casts the widest coverage and outshines the Weber Handle Grill 'N Go Light and 72-3101 Chef Buddy Light. These two are better for small surfaces or grilling only a few pieces of meat. The Cave Tools light works for small and large grills.
Cave Tools and Weber have battery compartments that may test your skills and patience. The upside is that the former includes a screwdriver to simplify the process.
Cave Tools vs. Permasteel and Cuisinart
Cave Tools and the Cuisinart CGL-555 Mount Grill lights are tough to install. Cuisinart is even more technical because the screws securing the batteries are not on the surface. Instead, they're inside small holes, and I couldn't see them without a flashlight.
With the Permasteel PA-12002-AM Flexible Gooseneck Light, you can change the batteries without a screwdriver, which is a huge win compared to Cave Tools.
Regarding build quality, I think Cuisinart and Permasteel are better than Cave Tools. They feel more durable, and I don't think they will immediately break if I drop them.
All three are pretty easy to use, with Cuisinart being slightly more user-friendly.
Who Should Get This?
The Cave Tools Barbecue Grill Light is an excellent choice if you like your grill station brightly lit. The broad coverage is this light's best feature. If you're often cooking a lot of food on the BBQ at one time, this is the light you should get.
I also love how easy it was to install the light. It wasn't overly complicated, and it worked well. It helps that the neck rotates clockwise and counterclockwise for a full 360° rotation.
I think this is the best option for a big or small BQQ. That being said, if you grill often, you'll have to adjust and readjust the BBQ light every time you open or close your grill, which can be a little annoying.
Conclusion
The Cave Tools Grill Light is a good choice if you want something budget-friendly and convenient. It's easy to set up and improves your nighttime BBQ experience.