Picture this: You're hosting a backyard barbecue, and the sun sets just as the steaks hit the grill. This has happened to me more than once, so I knew it was time to get a grill light. I picked up a BBQ light from Permasteel, and I'll share the key features, benefits, and drawbacks of the PA-12002-AM Flexible Gooseneck LED.
Permasteel PA-12002-AM Flexible Gooseneck Grill Light Review
The Permasteel PA-12002-AM Flexible Gooseneck LED Grill Light comes with two lights, so I was particularly interested in testing this one to see if that increased the overall brightness compared to singular grill lights I've tried.
I tested the overall light intensity, inspected the build quality, and analyzed a few other features of this grill accessory. Let's see whether the Permasteel LED Grill Light has what it takes to become my favorite BBQ light or not.
Features and Benefits
Grilling after dark used to be a nightmare, so I tried ending it with the Permasteel LED BBQ light. These features and benefits summarize how and why this magnetic grill light affected my late-night BBQ sessions.
Two Lights Per Set
The first thing you should know about the Permasteel LED grill light is that you get two lights included. What I like about this is that you can position each light on a different part of the grill to maximize the amount of light shining onto the pellet grill.
With eighteen bulbs total between the two lights, I hoped this would provide enough illumination to brightly cover the entire charcoal grill.
Unfortunately, I'm not a huge fan of the overall brightness. The lights aren't bright enough to clearly see the food on the grill, and the light from each is too focused. I essentially had two small spotlights pointing at specific sections of my grill, leaving the rest of my food in the dark.
Simple Installation
I liked how easy it was to install and detach the Permasteel Light. These lights stick to the grill with strong magnets, so they stay firmly in place once you attach them. This also means they're easy to move from one grill to another. Ultimately, the light won't fall off the grill or onto the grill surface.
The AAA batteries are at the bottom of the grill light. While they're simple to change and replace, you'll need a compatible screwdriver.
While these magnetic lights give you consistent illumination, hands-free operation, cooking precision, and safer grilling, it also means that if you have a grill made of any material that's not metal, you won't be able to use these lights.
Portable Size
I appreciated the compact size of Permasteel's LED grill lights. The sleek aluminum design, which is rust-resistant, weighs eight ounces and measures 9.84 inches. So, they're compact, easy to use, and can be stored safely.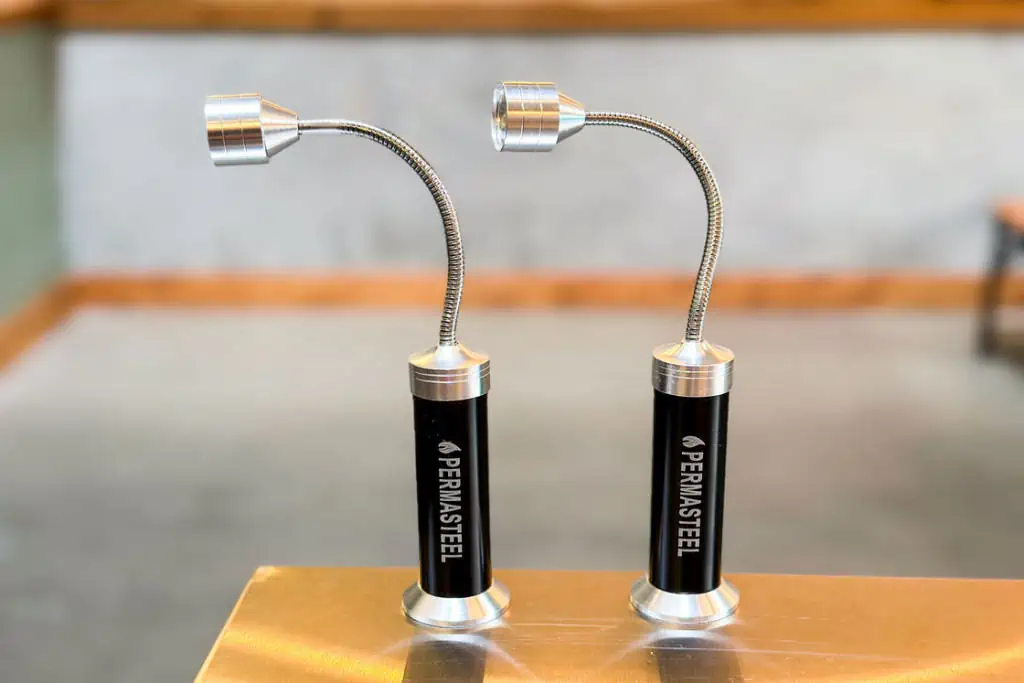 Easy Rotation
These lights feature a flexible, helpful neck for precision or a spotlight effect. Instead of removing the lights from the grill and repositioning them where you want better lighting, you can conveniently rotate them to achieve the same result. This feature is handy while monitoring a piece of meat needing special attention and direct light. The mount was firm and there was zero shakiness while repositioning them.
User Experience
When opening up the Permasteel PA-12002-AM, I was immediately impressed by the build quality. Both lights felt durable and well-made. I have yet to drop these, but I'm not worried about them breaking based on how they feel.
The magnetic base is reliable even if you stick it upside down on the BBQ. Regardless of the position or angle at which you place the grill lights, they remain in place. Since they're portable and easy to store, bringing the duo wherever you need them is no hassle.
Although it is relatively easy to change the batteries, you can't do it without a small Phillips head screwdriver. Also, keep in mind that each light needs three AAA batteries, adding up to a total of six. That's a lot of AAA batteries to have on hand and readily available.
Benefits and Drawbacks
Here's a breakdown of what I like about the Permasteel grill magnetic lights and the drawbacks I experienced. The benefits include:
Base sits firmly on most metal surfaces and doesn't move when rotating the gooseneck
Small and doesn't take up much space
Comes with two lights, and you can position each one individually
Power button on the side is easy to use to turn the lights on and off
Although the grill light offers some notable features, these are the aspects I think Permasteel could improve on:
Can only work on metal surfaces since they're magnetic
Gooseneck is short and can't always extend as far as I need it to
Not very bright and doesn't cast a wide net of light onto the grill
Comparing the Permasteel LED Magnetic Light
Let's compare the Permasteel magnetic grill light with four other BBQ lights I've tested and tried:
Permasteel vs. Cave Tools and Weber
As I said before, the Permasteel could be brighter. In comparison, the Cave Tools Barbecue Grill Light and Weber Handle Grill 'N Go Light are much brighter. Not only that, but these two also cast a larger net of light, allowing me to see my entire grill while barbecuing.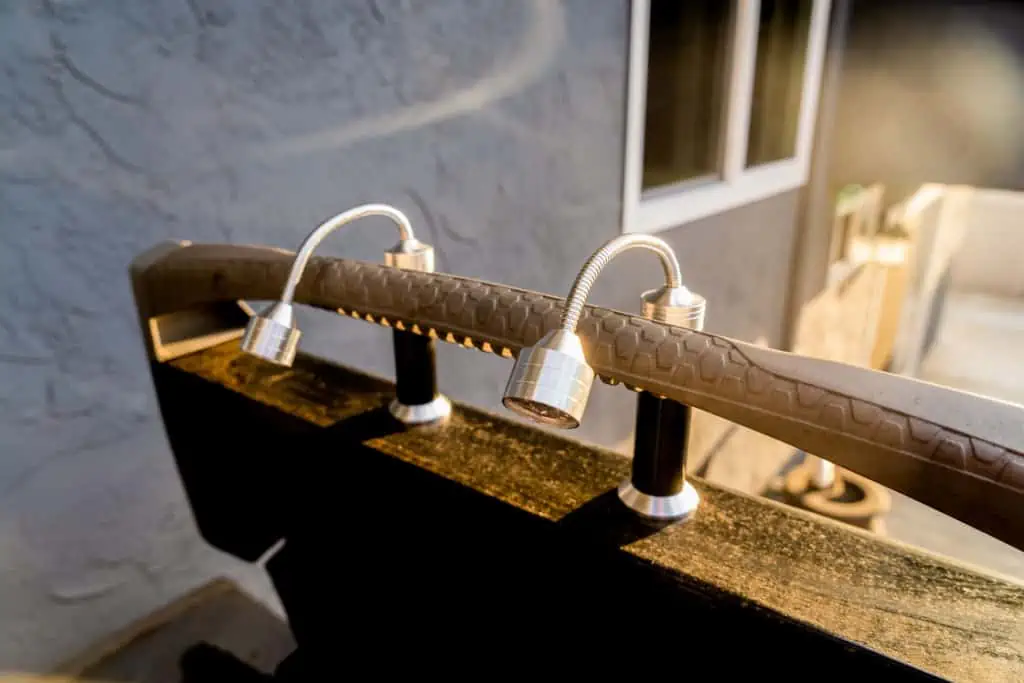 The Permasteel's magnetic base stays put throughout your grilling session, and you can attach and detach it in one easy move. I found this to be much easier than installing the lights from Cave Tools and Weber, both of which I struggled with a bit.
For all three, you need a small screwdriver to get to the batteries, and only the Cave Tools makes it easy by including a small screwdriver to the package.
The Permasteel LED BBQ light has a better on/off feature than the Cave Tools light. Cave Tools uses a sensitive touch feature, so I found myself accidentally turning the light on and off a lot.
Permasteel vs. Chef Buddy and Cuisinart
Of these three lights, the Cuisinart CGL-555 Mount Grill Light is the brightest, followed by Permasteel, and the 72-3101 Chef Buddy Light has the weakest light. While Cuisinart casts a wide net that extends to the entire grill surface, the other two produce narrow light similar to a spotlight effect. Ultimately, Cuisinart lit up my grill station best and had the best coverage.
In terms of practicality, though, I like the Permasteel and Chef Buddy lights because of the flexible gooseneck. The Chef Buddy light has a better neck since it's 15 inches long, compared to the 4.3-inch neck on the Permasteel.
When comparing these three brands, they all have excellent grill light bases and are easy to set up. Although they have different base designs, each one has a tight and unshakable grip. I attached the Cuisinart through its strap, the Chef Buddy with its magnetic clip, and the Permasteel with its round magnetic base.
Who Should Get This?
If you want two grill lights that have the flexibility to be positioned anywhere on a metal surface, this is a great option. I like how easy they are to use, clean, and maintain. The batteries don't quit on you, the lights don't overheat, and the neck is flexible enough to shed light on a precise piece of meat.
These lights are a good choice if you have a small BBQ gas grill. Despite having dual sources of light, the Permasteel lights aren't bright enough to light up a standard sized grill (let alone a large one). I'd only use these when grilling a few pieces of meat at a time.
Conclusion
Overall, the Permasteel PA-12002-AM Flexible Light is a decent option for anyone looking for a durable light for their grill. They're easy to install, have a long battery lifespan, and are weatherproof. If you have a small grill and you're looking for a grill light to make grilling more accessible and enjoyable at night, consider getting the Permasteel LED Grill Light.