Poor lighting ruins a promising BBQ session, and I learned this the hard way through countless frustrating nighttime grilling attempts. So, I tested out the Cuisinart CGL-555 Mount Grill Light to see if it would solve my problem of being unable to see the grill once it got dark outside.
Cuisinart CGL-555 Mount Grill Light Review
As an experienced griller who constantly covers the entirety of the grill with food, I knew that when I was looking for a grill light, I'd need something that cast a wide net of light so I could easily see everything on my BBQ. Durability, brightness, and overall ease of use were other factors I wanted to consider.
Does the Cuisinart CGL-555 Mount Grill Light features have what it takes to earn a permanent spot on my grill when I need additional lighting?
Features and Benefits
If you've struggled cooking in the dark, this mounted grill light might be your answer. While it's not perfect (I'll share a couple of the downsides of it below), it gets the job done. Let's dive into what the Cuisinart CGL-555 has to offer.
High-Intensity COB LED Light
COB LED is an acronym for "chip-on-board Light Emitting Diode." In simple terms, this innovative technology offers even light distribution without glare and harsh shadows. COB LED technology controls overheating, consumes less energy, and produces a bright light.
The light is consistent, doesn't flicker, and is intense enough to help you monitor your meat at night without draining your batteries. Personally, I think the light could still be brighter, but it's not the worst one I tested (not even close).
Easy Installation
Installing the Cuisinart CGL-555 is a piece of cake. It has a heat-resistant strap and an adjustable buckle that fits snugly around the grill's handle. Even after leaving it on the grill for hours, the grill light mount stayed cool and wasn't too hot to touch when I wanted to remove it from the handle.
Water Resistant
This device is water-resistant. It has an IPx3 rating that minimizes water and snow damage, so if you forget it in the rain or light snow, it's not the end of your grill light. I have yet to leave it in the rain, but I've gotten it wet and haven't experienced any issues so far.
That being said, while the mount grill light is water-resistant, it's not waterproof. So, I'd recommend storing it inside or in a protected space outside so the device doesn't get ruined during heavy rains.
User Experience
When it comes to a grill light, I'm not looking for an overly complex tool – I want something that will be bright, quick to install, and can withstand heat. The Cuisinart CGL-555 is simple in design, yet feels durable.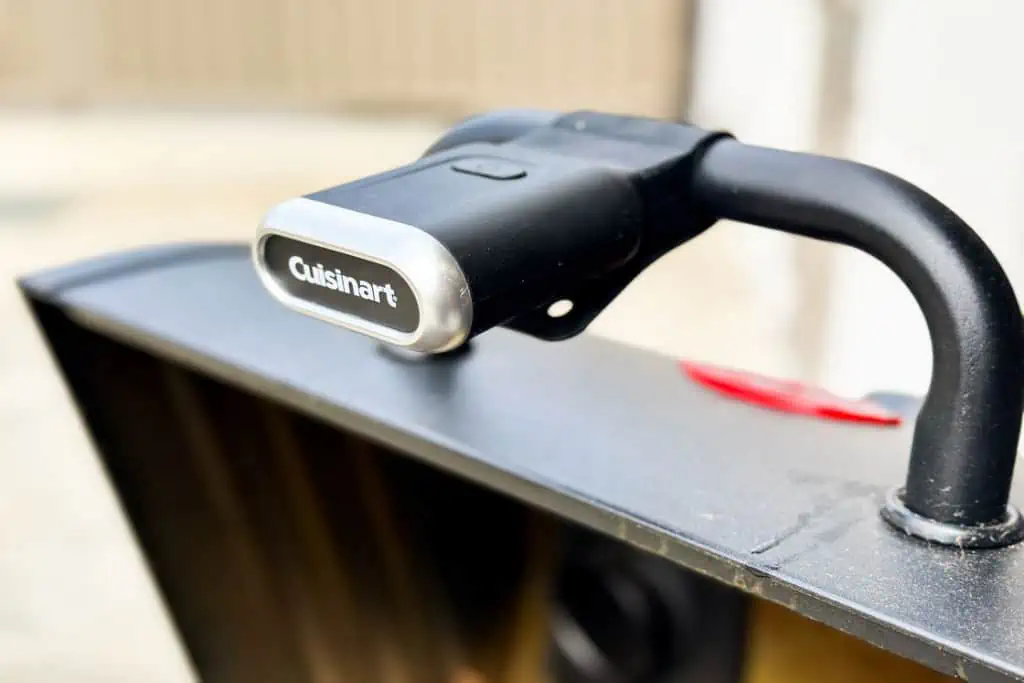 This BBQ light can tightly grip onto a burner gas grill, or charcoal BBQ grill, smoker, or even pizza oven. It can be adjusted to wrap around and mount to a grill handle that's up to 1.5 inches in diameter, which works for most BBQs. Better yet, you can easily take it with you if you plan on grilling while camping or at a park, since it only weighs 3.2 ounces.
Once attached to the grill handle, the grill light mount maintains a cool temperature, regardless of how long you use it. This is important since I'm often cranking my grill up to a high temperature, and I don't want my light to overheat.
There are two brightness levels you can alternate between, each covering the length of your grill. Even on the brightest setting, it still feels a bit dim – I would have liked to see a more powerful light on the Cuisinart.
Benefits and Drawbacks
The Cuisinart CGL-555 does more than light up your cooking area. Here are some other advantages:
Weatherproof and does well in snow, dust, light rain, and other weather conditions
Mount is sturdy and provides consistent lighting without shaking or swaying
Heat resistant and doesn't burn you, even after hours of being attached to the grill handle
Casts a broad light over your entire grilling surface
Lightweight, durable, and made with quality material
While I like this grill light, there are some drawbacks that Cuisinart can improve on. They include:
Very hard to put the batteries in – you need to unscrew the casing with a tiny screwdriver, which isn't provided
Light could be brighter, especially if there's no other source of light to help illuminate your grill
Comparing the Cuisinart CGL-555
I tested multiple grill lights so I could determine which was the best. Here's how the CGL-555 compares to other BBQ lights I tried.
Cuisinart CGL-555 vs Cave Tools and Weber Grill Light
While the Cave Tools Barbecue Grill Light was brighter than both the Cuisinart and Weber Handle Grill 'N Go light, they all cast a pretty wide net of light over the grill. The Weber and Cuisinart were very close in the amount of brightness they output, with the Weber being slightly brighter.
The Cuisinart CGL-555 is easier to mount on the grill compared to the Cave Tools and Weber light. It took me seconds to take the CGL-555 on and off the grill handle, whereas I spent 10 minutes trying to get the Weber Grill 'N Go Light off the grill once I finished using it.
Even though the CGL-555 is limited to only being mounted on the grill handle, it feels more durable and sturdy when mounted than the other two BBQ lights.
Once I positioned all of these lights, I didn't need to move them very much to see everything on the BBQ, which was nice.
Cuisinart CGL-555 vs Permasteel and Chef Buddy
In terms of the light span, it's no contest. Cuisinart spreads light across the entire grill, unlike the Permasteel PA-12002-AM Flexible Gooseneck Light and the 72-3101 Chef Buddy Light. These two shine a spotlight onto the grill, so I had to constantly move the light around to see different parts of the BBQ, which is a hassle. I felt like I spent more time adjusting the lights than grilling. The Cuisinart didn't have this issue as the entire grill surface was illuminated the whole time I was grilling.
Installing the batteries on the Chef Buddy and Permasteel is much easier than on the Cuisinart. I found it to be a pain to get batteries into the Cuisinart BBQ light, and anytime I'm going to need to replace the batteries, I'll have to dig up my one tiny screwdriver to open up the battery compartment.
Who Should Get This
The Cuisinart CGL-555 is a good option for a BBQ light if you're looking for something that casts a wide net of light with a decent amount of brightness. While the light could be brighter, I'd still rank this one in my top two for favorite grill lights since I can see everything on the grill while cooking based on how wide the light spans.
I'd also recommend it if you want a grill light that feels durable. The build quality is pretty solid, so I'm not worried about it breaking if I accidentally drop it or quickly toss it into a drawer to store it while not in use.
Other than needing to find a tiny screwdriver to install the batteries, the Cuisinart Grill Light is the easiest to set up and use. This is great if you need a light fast or aren't the most tech-savvy.
Conclusion
Overall, the Cuisinart CGL-555 Mount Grill Light is great for BBQ enthusiasts who want to grill at night. It is bright, water-resistant, heat-resistant, and easy to install and use. If you want a reliable and affordable grill light, I'd recommend the Cuisinart CGL-555.