Grilling after dark poses some unique challenges, from struggling to see if your food is properly cooked to potential safety hazards. That's why having a dedicated grill light can be a barbecue game-changer for night owls, late-shift workers, and for when the sun sets earlier in the winter months.
I recently tested out the Chef Buddy Adjustable LED Barbeque Grill Light to see if it could solve my after-hours grilling woes, and here's my review of it.
72-3101 Chef Buddy Adjustable LED Grill Light Review
What initially intrigued me about the 72-3101 Chef Buddy Adjustable LED Barbeque Grill Light was the dual light design and the long, flexible gooseneck. That, paired with the fact that there are two ways to mount it to the grill, made me excited to test this out.
However, my extensive testing definitely highlighted some weaknesses, which I will go into.
Features and Benefits
Here are some of the features you'll find on the 72-3101 Chef Buddy:
Multiple Mounting Options
The base clamp has a magnet attached to it, so you can mount the light to your grill in two ways. You can clamp it onto something (such as the side of the grill), or you can use the magnet and stick it to a metal part of the grill.
Flexible Neck
The Chef Buddy BBQ light has a 15-inch neck that bends in any direction. This is a handy feature, especially since the light on this tool isn't that bright. By easily adjusting the neck and pointing it directly at the piece of meat I was cooking, I could get the most light onto my food.
Brightness Level
The brightness on the Chef Buddy leaves much to be desired. I've tried several grill lights, and this one has the poorest light quality. It's not great at producing enough light to cover the surface of small or large grills.
The light didn't impress me because it's very directional, making it hard to see the food I was cooking. Even though the device has two separate light heads, it didn't provide more light than other grill lights I tested – it actually provided the least amount of light!
Easy Battery Installation
This might seem like a trivial thing to talk about, but I've tested a few grill lights where it's really hard to open up the battery compartment and you need a special screwdriver.
Luckily, the Chef Buddy's battery installation is simple, and no additional tools are needed. Sadly, this was probably the best feature of this grill light.
User Experience
When I picked up this grill light, I noticed some things about it immediately. For starters, it's straightforward, with no complicated features. I easily opened the battery compartment, installed the batteries, and closed it.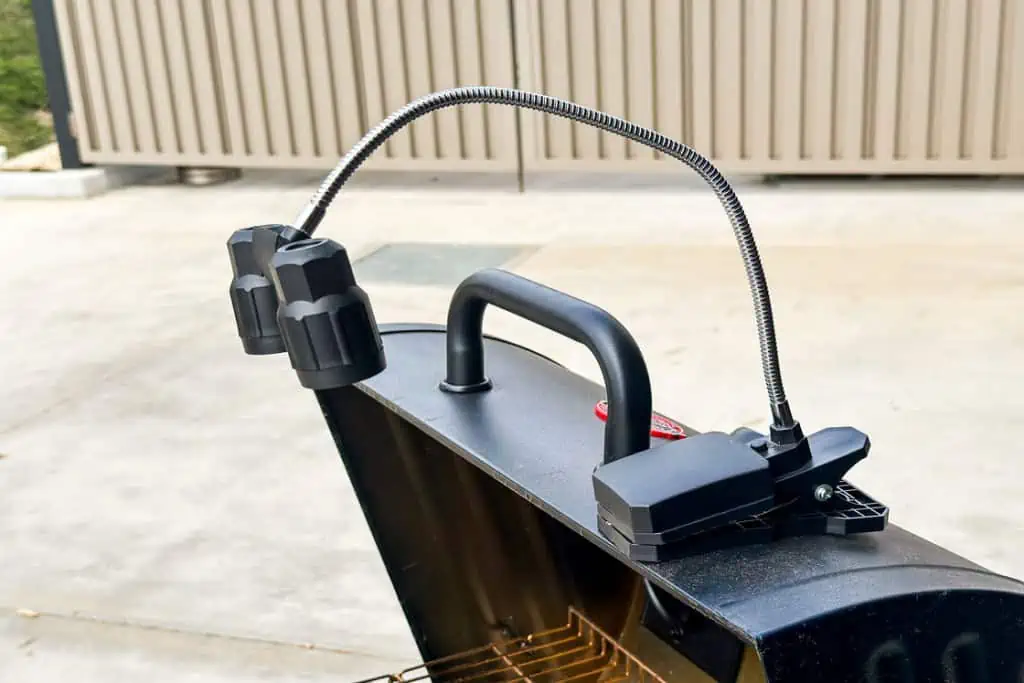 There are two ways to attach the grill light to your station: by clamping it or using the magnetic base.
Initially, I thought clamping it would be easiest; however, you can't clamp it to anything round. I wanted to attach it to my grill handle, but that was round, so I couldn't do that. I thought about clamping it to the grill lid, but the lid gets really hot when cooking. I figured that wasn't a good place, since the LED light is plastic and could melt.
In trying to attach the Chef Buddy to my grill using the magnet, I found that the magnet wasn't very strong. If I brushed against it, the light ended up falling.
I ended up setting the light on the side of the grill so that the light stood up. Since it has a long, flexible neck, I curved the lamp so the light shined on the grill. This isn't an ideal solution by any means, but it worked.
When it came to the brightness of the light, I was disappointed. It was not bright and did not light up much of the grill at all. The light was very directional, so I had to reposition it when cooking more than a couple of pieces of meat at a time.
Benefits and Drawbacks
Grilling becomes more challenging when the sun goes down without the right BBQ tools. While this product seemed promising initially, there were more drawbacks than benefits.
Here's what I liked about it:
360° rotation and flexible neck that makes it easy to get directional light
Battery compartment is easy to open up without any additional tools needed
Here's where I thought the Chef Buddy light fell short:
Not bright and can't light up the entire grill surface
Weak magnet that's likely to drop from the grill if placed upside down
Clamp doesn't attach to round surfaces, such as a grill handle
Fragile and likely to fall apart if you drop it
Overall, there were several factors I didn't like with this BBQ light, with the biggest issue being how dim the light actually was.
Comparing the Chef Buddy Adjustable Light
Let's rate the performance of this BBQ light while comparing it with other brands I've also tested:
Chef Buddy vs. Cave Tools, Weber, and Cuisinart
The batteries of the Cave Tools Barbecue Grill Light, Cuisinart CGL-555, and Weber Grill 'N Go lights are tough to install since you need a tiny screwdriver to open up the compartment. On the other hand, with Chef Buddy, you can quickly pop the batteries in and out in seconds.
Cave Tools, Weber, and Cuisinart's light outputs are all leagues better than Chef Buddy's brightness. The 72-3101 Chef Buddy really falls short in this category, and if this were the only light illuminating my grill at night, it'd be hard to see.
Even though the Chef Buddy isn't as bright as the other three, I like that it has the long, adjustable gooseneck. This gives me full control of exactly where I want the (limited) light to shine.
Chef Buddy vs. Permasteel
Permasteel PA-12002-AM Flexible Gooseneck's light brightness isn't great, but it's slightly better than Chef Buddy's output.
Both Chef Buddy and Permasteel have goosenecks, which is great for being able to control exactly where the light is shining. Chef Buddy's gooseneck is over three times as long as Permasteel's, making it more useful since the light could get closer to the items on the grill.
Who Should Get This
If you have a small BBQ or want something to use while traveling, the 72-3101 Grill Light is a decent option. Based on the limited brightness and directional lighting, it's best for people who are only cooking 1-2 small pieces of meat on the grill at a time. Otherwise, you'll constantly need to adjust the direction of the light.
The performance is not bad for the price, although I don't personally like the flimsy, plastic structure. For a similar price, I'd recommend the Cave Tools Barbecue Grill Light instead, which will provide much better light and a more durable design.
Conclusion
While the Chef Buddy Adjustable LED Barbeque Grill Light is not bright, it is user-friendly and easy to set up. It's best for small gas grills and cooking only a few items at once. The 72-3101 Chef Buddy Light is a decent option if you want something portable and pocket-friendly. But, trust me, there are much better options on the market.