Do you have a lot of firewood, and you aren't sure how to store it? You've come to the right place!
In this TheGrillingDad.com article, you will discover:
The best ways to store your firewood
Unique firewood storage solutions
And much more!
Firewood Storage Ideas
Having a home fireplace or fire pit is one of the best feelings. Now you can light a fire whenever you feel like it (and the weather permits!) But if you have a fireplace, you're definitely going to need some firewood.
Firewood can be stored using several different methods. You can build your own rack, buy a shed, or even repurpose some furniture you already have on hand. Buckets, crates, shoe racks, and picnic baskets can all be used to store firewood.
There is no single right way of storing firewood, and what works for you might also rely on your location. Some people want their firewood closer to their fireplace as a decoration, while others desire it to never be seen.
Whether you want to store your firewood inside or outside, we've got all the ideas. Read on to learn more.
1. Build a Wooden Rack
One of the best ways to get a firewood storage solution perfect for the space you have available is by building your own firewood rack. This will allow you to make it to the exact dimensions you need.
Of course, if you aren't very good at building things, you may want to consider purchasing a firewood storage kit or another solution on this list.
2. Buy a Waterproof Holder
If you live in a wet location, a build-your-own wooden rack isn't going to work. You're going to need something a little more like this metal rack from Amagabeli that comes with its own heavy-duty cover.
While there might still be some assembly involved, at least you will be able to keep your firewood dry all year round, and you don't have to worry about the legs of the rack getting wet.
3. A Shed
In some of the wettest locations, like Colorado, where three feet of snow happens at least once a year, you will definitely need to look at options to keep your firewood more inside. In these cases, a shed works best.
Sheds are great because you can order a kit to build your own or place an order for an already assembled one. You can pick any size and style you need to fit your yard. We are a huge fan of sheds, especially when you have multiple BBQ devices you need to keep safe from the elements!
Related >> How To Secure Outdoor Furniture
4. Buy an Indoor Rack
You don't have to just store firewood outside, and if you plan to use your fireplace frequently this year, it might be nice to have an inside rack as well. Nice-looking metal racks aren't that expensive, or you can make your own with recycled metal pipes.
5. Build a Sunroom
If you like the idea of a shed but also want a place where your family can hang out during the winter season, then you should consider enclosing your patio to make it into a sunroom. While this option won't work for everyone, there are easy kits that make it possible to do even if you aren't great at building.
Related >> Temporary Patio Enclosure Ideas
6. Wall Mounted Firewood Holder
This is one of the easiest firewood holder ideas on the list, but be aware that it is also one of the most permanent. All you have to do is take some 2x4s and cut them into two long pieces (the length of your holder) and 4 short pieces. Then, screw the small pieces to the end of the long pieces at 45° or 90° angles and affix them to your wall using metal brackets about 6-8" apart.
The cool thing about this firewood holder is that you can easily paint it any color you want to match your decor. And later, if you change the theme of your living room, the holder can be repainted as well.
You can also repurpose any wood or metal to use as a wall-mounted firewood holder.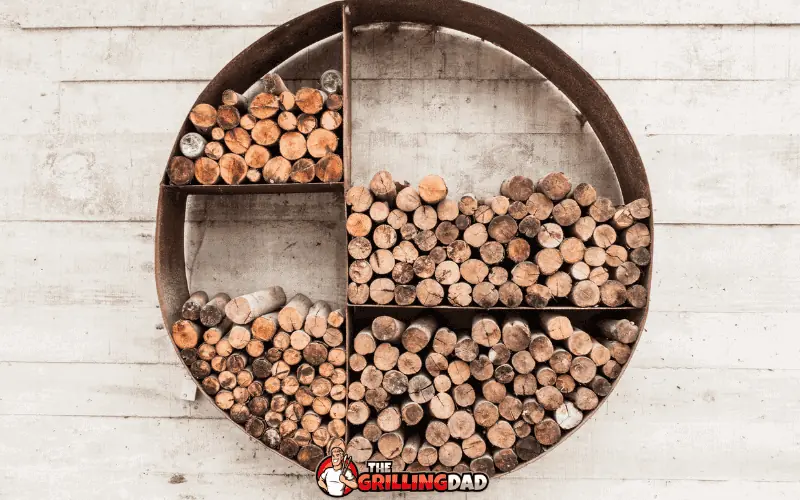 7. Bucket Storage
There is no law that your storage for your firewood needs to be a rack! In fact, for indoor storage, we are a huge fan of using buckets. You can even choose the buckets depending on your decor style.
For example, metal buckets go well with a country farmhouse theme. For a more modern style home, you could use wire baskets instead. The options are endless! Just don't put a plastic bucket somewhere where it might get melted!
8. Trash Can
If you like the metal bucket idea but need to keep your firewood outside, then a metal or plastic trash can will work well. Not only can you fill it with firewood and keep the lid on it to keep it dry, but you can also pull the lid off and display it nicely next to your fire pit.
For those that do plan to store the trash can near the fire pit, ensure you purchase a fireproof can that won't melt from the heat.
9. Tote Bag
We aren't kidding, there is actually a firewood tote bag you can use to store your firewood. This is more of an indoor firewood storage idea, and to be honest, it won't hold much. But for an occasional fire builder, this solution could be ideal.
10. Repurpose a Shoe Rack
If you have an old shoe rack, depending on the style, it can make a great firewood holder. We are specifically speaking about the ones with the bars to hold the shoes, as you can easily stack firewood on them.
If you have another style of shoe holder you would like to repurpose, this is possible too, you just may need to add some thin boards to keep the firewood in place, but this is an easy DIY if you need to do it!
11. A Crate
Crates make for great indoor or outdoor firewood storage, and you may be able to find some for free, depending on where you live. For those that can't but love the look of the wooden crate filled with wood, you can also buy a couple for cheap.
12. A Picnic Basket
Do you have a picnic basket on hand? If so, how many picnics have you been on? Exactly.
We recommend repurposing your picnic basket to make it a firewood holder. Or you can purchase one if you don't have it on hand. Just be cautious, as these typically can't be placed too close to the fire.
13. Built-in Stone Storage
Now, this next idea is one that can only be implemented if you are remodeling your home. But if you are, and it will feature a stone fireplace, consider building in a cubby or alcove into the rocks to store your firewood. The result will be a sleek firewood storage idea that will mesh perfectly with the style of your fireplace.
14. A Deck Box
A deck box is a completely enclosed box that is designed to store anything you would like, including firewood. We love this idea because although this box will take up some valuable real estate on your porch, it can also double as a place to sit when you need it to!
There are a few different styles of these, but the one below is our favorite!
15. A Cabinet
Some people really don't want to see their firewood day in and day out, and that is understandable. In these cases, you can purchase almost any cabinet to store your firewood in.
If you don't mind looking at your firewood, you can consider a cabinet that has an open bottom or middle shelf and make your firewood an integral part of your decor.
Where is the Best Place to Store Firewood?
Now that you know some of the options for storing your firewood, you may be wondering whether you should store it indoors or outdoors. The answer will depend on where you live and your mobility.
In general, the best place to store firewood is outside in some nice type of stack. But you also want to keep your firewood dry, meaning those in more rainy places may need to put their firewood in a shed or under some sort of awning.
There is also the issue that you usually need firewood when it is really cold outside, and if you or a loved one isn't very mobile, it may be difficult to access the firewood in the winter. In these cases, you may want to store your firewood (at least a portion of it) indoors.
We have found that the best firewood storage ideas use both an inside and an outside method. This means that you should have a cute bucket or basket for your firewood inside but also have a large spot for storing it outside that is protected from the elements.
Related >> Can I Leave My Outdoor Furniture Outside Year Round?
How Far Off the Ground Should Firewood Be Stored?
Firewood should be stored at least 5ft above the foundation of your home as well as at least a few inches off the ground.
This will help the firewood stay dry, as well as lower the chance of having pests in the wood. If you are truly concerned about pests, then you should consider a storage option like a shed or another enclosed space like the firewood bench.
While this won't truly get rid of all pests, it will make the firewood much less tempting for them.
Firewood Storage Tips
Want to store your firewood in the best way possible? Here are some tips!
Select a Breezy Area
People like to put firewood along the side of their homes, and this is definitely an option! But you also should pick a side of your home that gets a lot of air. This air will help to dry your wood and keep it from rotting.
Keep it 20ft from the Door
Firewood is great, but it can also attract bugs, mice, and a number of other pests. You'll want to prevent the pests from seeing your door as an extension of your firewood accommodations by keeping it at least 20ft from your door. You may also want to avoid having it lean against the house if mice are a huge problem in your area.
Use a Cover
Even if you think you live in a dry climate, a cover is always a good idea for a firewood stack. This will help to keep your firewood dry all year round. If your firewood storage idea doesn't involve a built-in cover, a simple weather-proof tarp can work wonders.
Keep In Mind the Vicinity of the Fire
Firewood is highly flammable. So although it is convenient to store it right next to the fire, you may want to consider moving it a bit away to avoid it catching fire. If you're storing wood for your offset smoker, make sure to move the smoker away from the wood before firing it up!
You should also consider a fireproof method of storing your firewood.
Final Thoughts on Firewood Storage Ideas
Overall, no matter which one of these ideas you choose, your firewood will be looking spiffy in no time. We hope you have found at least one cool firewood storage idea on this list that you intend to implement. Just remember to do your best to keep the firewood dry, and you will have no problem building some nice fires this winter!